Volkswagen wants to send out a message through Tiguan. The "people's car" is also a super brand brimming with luxury. The company that owns such exciting brands as Audi, Porsche, Bentley and Skoda wants to tell the Indian market that it is a leader in the luxury segment as well. And Tiguan is its best bet.
Tiguan gives a fillip to Volkswagen, which currently has only Polo and Vento in India.
The space
Tiguan matches Audi Q3 in price and features. The new car is not all luxury. Tiguan comes with technology that matches Audi, Mercedes or BMW. The price has been lowered a bit without compromising on the features. The car is more value for money.
Q3 platform
Tiguan uses the Volkswagen MQB platform. Even the Q3 is built on the same platform. Both the cars share the engine and the gear box. The differences are only perceptible in the body and interior layout. However, Tiguan's price starts from Rs 28 lakh, while you have to shell out at least Rs 35.5 lakh for Q3.
Calm and wild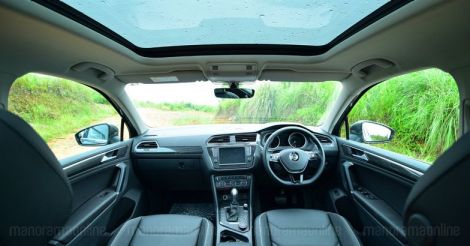 Volkswagen Tiguan
Tiguan has two faces. The car traverses the distance from the normal mode to the ferocity of a four-wheel drive at the click of a single rotary switch. You can go on adventure drives without serious modifications. The car provides additional security on icy surfaces.
Head turner
Tiguan is a head turner. Remarkably high and as big as an SUV, the car oozes appeal with the large Volkswagen grill and logo and the generous use of chrome. Large head lamps with daytime running lamps, 18-inch Kingston alloy, LED rear lamps and foldable mirrors make the design grand.
Black magic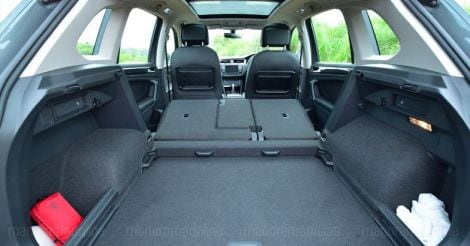 Volkswagen Tiguan
Tiguan stays true to the German tradition with its black interiors. No other car in the segment has panoramic sun roof decorated with LED lights. Three-zone automatic air-conditioner, pin vents, electrically adjustable driver's seat, keyless entry, touch screen, park assistant, reverse camera and electrical park brake completes the show. The start switch is designed into the central console. You can easily open the boot even if your hands are full. You only have to sway your foot under the bumper – a feature reserved for premium cars like in the Beamer 7 series.
Only diesel
The 143 ps, two liter TDI engine is smooth and strong. The four-motion four-wheel technology is designed to power four wheels as required. The seven-speed Tiptronic DSG gearbox is another attraction. You can drive in four modes including normal and off road. Cruise control will pamper you.
Safety first
Six airbags, ABS, EBD, tires that don't puncture and hill hold that keeps the car steady at inclines make the car safe as a battle tank.
Test drive: EVM, phone: +91 9895704023
Read: Latest Auto news | Hero to launch new scooters to take on Honda