Huge trucks carrying heavy loads are a common sight on our roads. But certainly many of us are unaware of the whole science and intricate technology behind these giant machines on wheels.
With stringent regulations that force manufacturers to build cleaner, less polluting trucks, the technologies within these vehicles have undergone a sea-change of late. Mainly, truck makers stick to the following two methods to meet the Bharat Stage (BS) norms, the Indian emission requirements for heavy-duty truck and bus engines.
Method 1
Exhaust Gas Recirculation (EGR), an emission reduction technique used in petrol/ diesel engines, works by recirculating a portion of an engines exhaust gas back to the engine cylinders. It is relatively a low-cost and easy to integrate technology. Under this system, a portion of the exhaust gases are first cooled through a heat exchanger and then blended with fresh air before being passed through a catalytic chamber.
There are flaws
As catalytic converters cannot clean up elemental carbon, exhaust containing substances could coat the working surfaces of Particle Oxidation Catalysts (POC), one of the particulate filters in the exhaust system. This issue can be dealt by replacing the filter when required. Otherwise, it can lead to increase engine wear and have an adverse impact on fuel efficiency. Frequent filter replacement will be expensive too. Moreover, it can be done only in vehicles coming with engines producing less than 180 BHP.
Method 2
Another technique called Selective Catalytic Reduction (SCR) is widely used for reducing oxides of nitrogen. This method involves injecting a fine mist of urea plus water through a catalyst into the engine's exhaust stream to create a chemical reaction. It may sound simple, but the technology behind this is complex.
There are practical difficulties too. First of all, there should be a special tank filled with urea onboard the truck alongside the diesel tank. It is nonviable due to the multiple challenges such as sourcing of urea. As it will not be available at fuel stations, urea should be kept in small cabins inside the vehicle in order to refill the tank when necessary. The driver should also be aware of the risk factors involved in the event of a gas leak.
More risks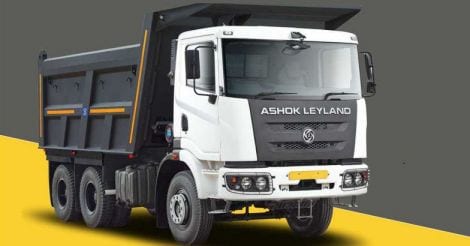 Though the SCR technology is ideal to be used in high-capacity vehicles, there are chances of the complicated sensors and other compliance-related devices to develop technical snags. Moreover, the technology, which functions perfectly in quality highways under specific speed limits, is most unlikely to produce desired results in Indian conditions.
Here comes the solution
It is under these circumstances, Ashok Leyland, the second largest commercial vehicle manufacturer in India, has come up with a solution to this perennial problem. The company, which took over one of the world's biggest manufacturers of urea-based solutions a couple of years ago, introduced the innovative SCR technology in India in 2010. However, due to frequent technical issues with censors and other practical obstacles, the company was forced to explore other options.
An effective method
The company took a step forward by developing a sophisticated version of the first method, the conventional exhaust gas recirculation system. It is called i-EGR (Intelligent Exhaust Gas Recirculation) tech, which also uses a common platform of achieving the emission norms by recirculating the exhaust gas.
However, the major technical flaws in the original version, such as the frequent replacement of filters due to collection of soot, have been rectified. The system has been modified to suit engines up to 400 BHP. The company has claimed that the new technology, which costs much lesser than the conventional method, offers up to 10 percent better fuel performance.
Leyland shows the path
Currently, most of the vehicles from the Leyland stable, including its new heavy truck platform 'CAPTAIN' series featuring four-cylinder diesel engines producing up to 280 BHP, are equipped with the i-EGR technology. The new system is expected to revolutionize the truck industry as the whole world is looking forward to have a patented technology that could offer better fuel efficiency at affordable costs. Moreover, it indeed is a feather in the cap for the ambitious Make in India campaign.