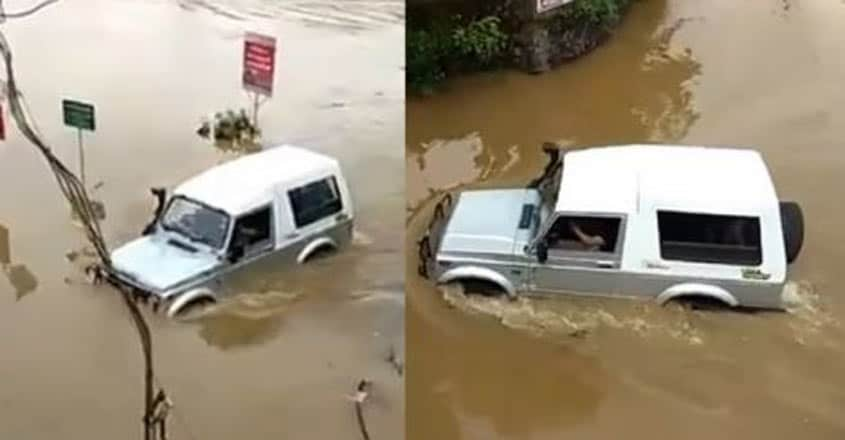 All our rivers and lakes are overflowing. The whole state is at the mercy of flood waters. The houses and vehicles of those living along the banks of rivers and lakes have been submerged by surging waters. At the same time, when people are afraid of taking out their vehicles through flooded streets, the video of a Gypsy smoothly cruising through water has gone viral. The video has originated from Perumbavoor.
Gypsy, the SUV from the Maruti stable, is one of the best offroading vehicles in India today.
The air intake/snorkel of the vehicle seen in the video is fitted high. Only if the vehicle is fully submerged, water will enter the engine through the snorkel. That's why the Gypsy seen in the video could easily move through water.
However, other vehicles should not try to emulate this feat. Each vehicle has it's air intake pipe fitted differently. If water enters through the air snorkel, the engine will shut off.
Here are some precautions in such situations:
* If the engine stops in water, it is better to disconnect the battery from the terminal. Seek expert help as soon as possible. Most cars have their emergency service contact numbers sticked prominently. Some car manufacturers even have apps that can be helpful during such situations.
* If the car needs to be towed, be careful. If it's an automatic transmission car, the front wheels or the driving wheels should not touch the ground or else the gearbox will go for a toss. In manual transmission the car should be in neutral gear while being towed.
* If water enters the engine, you are in serious trouble. The engine oil needs to be changed two-three times to flush the engine. Air filter, oil filter and fuel filter need to be changed. All intakes that could have sucked in water into the engine need to be cleaned.
* Gearbox, suspension, fuel line and brake system all need to be inspected. All electrical components need to be checked thoroughly. All doubtful components and fuses will have to be replaced. Now start the engine and leave it running for two minutes. Start driving only after this. You will also need to dry seats and other materials that have got wet. Rusting is another issue that needs to be checked.
* Though insurance covers natural disasters, there are limitations for damages caused due to flooding. Damages caused due to a falling tree or landslide to a running or stationery vehicle is fully covered. But it is difficult to get insurance cover if water enters the engine. The existing insurance rules say that water can enter the engine only due to customers' carelessness. Even if the car is fully submerged in water, there is no chance of water entering the engine. Only if you start the engine water gets sucked in.