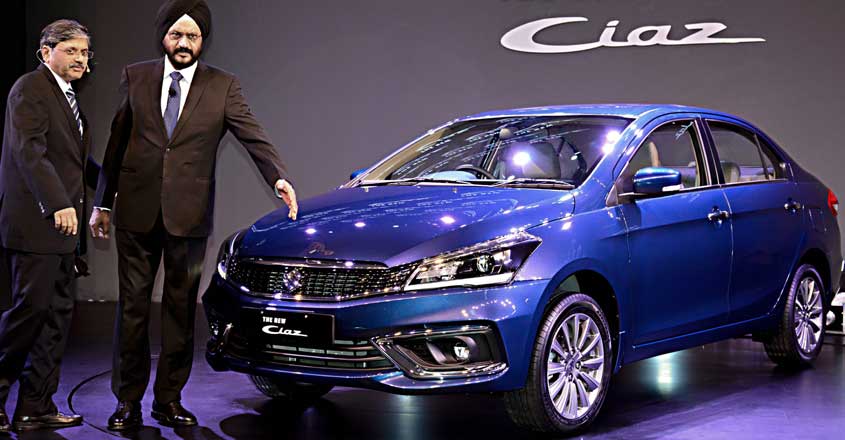 Bengaluru: India's largest auto maker Maruti Suzuki India Ltd on Monday rolled out here a new Ciaz sedan model with hybrid technology.
"The new Ciaz sedan with 1.5-litre petrol engine and smart hybrid technology is engineered to offer comfort and enhanced performance," said a top company official on the occasion.
The next generation model with Lithium-ion battery has an array of safety and convenience features such as LED projector headlamps, front fog lamps, front bumper and grille and rear combination lamps.
"Ciaz in new avatar is the first car in India to be powered by smart hybrid technology with Lithium-ion battery. With fresh changes, we are confident that it is in line with aspirations of customers," said managing director & CEO Kenichi Ayukawa unveiling the sedan.
The Japanese automaker launched Ciaz in India for the first time in 2014 as a mid-size premium sedan under A3 segment and sold 2,20,2000 units over the last four years.
As a hybrid vehicle, Ciaz is built on a legacy of innovation. Its new battery is compact, designed for longer service life and improves fuel efficiency.
"Ciaz has fuel efficiency of 21.6 km per litre in manual petrol variants and 28.1 km per litre in diesel variant," noted the statement.
Retailed through the Nexa network, Ciaz variants are prized between Rs 8.19 lakh and Rs 10.97 lakh with GST (goods and sales tax) for the top end (Alpha) variant, which contributes 41 per cent of its total sales.