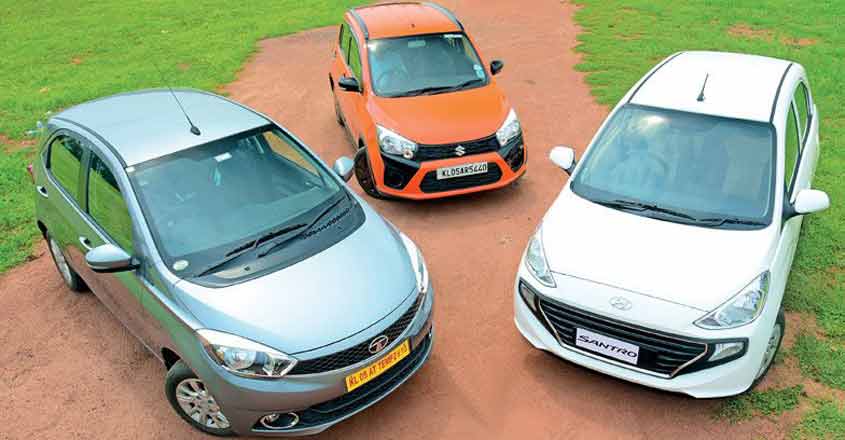 Hyundai Santro can claim credit for getting Indians fall for tall-boy cars. Once they got to enjoy the benefits of a tall-boy, Indians gradually bade farewell to low-slung cars. Today, when the same Santro has made a comeback, it has to take on several other tall-boy cars ruling a segment that was created by the Korean carmaker's vehicle.
Though arch-rival Maruti Suzuki's two-three cars follow the same design we will choose Celerio known for its travel comfort for a shoot-out with Santro. The third participant is Tiago that gave a new lease of life to Tata. In the faceoff, Santro's Asta variant takes on Celerio Zxi and Tiago XZ.
Santro has five variants including two AMT models, while Celerio has four in automatic and manual variants and Tiago has five that includes two AMT models.
DESIGN
In terms of space, Santro is the smallest in length, and second among the three in height and width. Tiago comes first in length and width and Celerio is the tallest among the lot. If you consider the wheelbase that decides the ride comfort, better high-speed stability and more cabin space, Celerio trumps the other two.
Santro
Positives: A practical design. The sloping window line adds to the good looks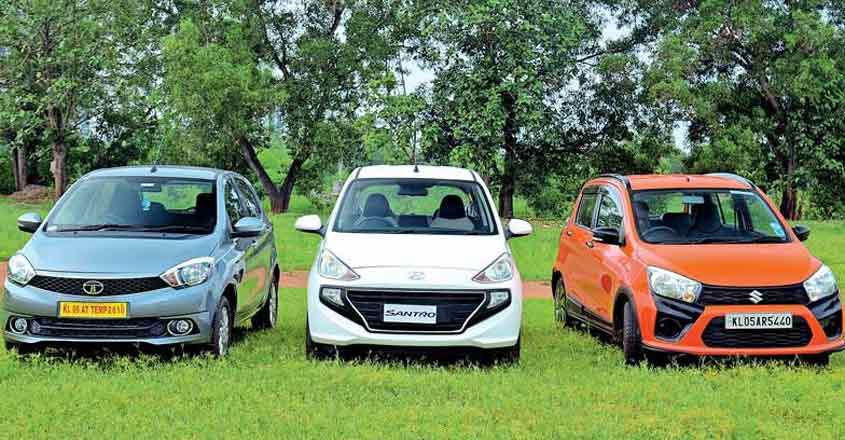 Negatives: Lacks freshness of a new car
If one exaggerates a bit, overall front design of Santro reminds one of Porsche; the bonnet's design resembles that of Porsche's. The grille and foglamps occupy the larger part of the bumper. There is nothing revolutionary in the design here, but everything is a lot more practical. As against all other Hyundai cars, the rear window line has a downward slope. Though this makes rear passengers less claustrophobic inside, it is rare in small cars.
Celerio X
Positives: Simple design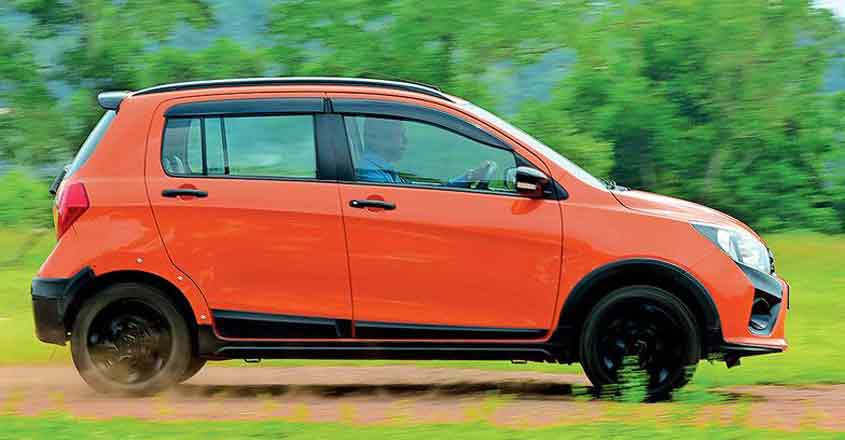 Negatives: Lacks freshness
From Maruti's tall-boy cars, one could be left wondering whether Wagon R or Celerio is the best. But if one also considers ride comfort, Celerio is the answer. And that is why Celerio was chosen for a comparison. Celerio X sports a simple design. The cabin feels airy and offers good outside view. The updated version of Celerio X has black finish; you can see this in the cladding, rear bumper and alloy wheel.
Tiago
Positives: Strong, beautiful design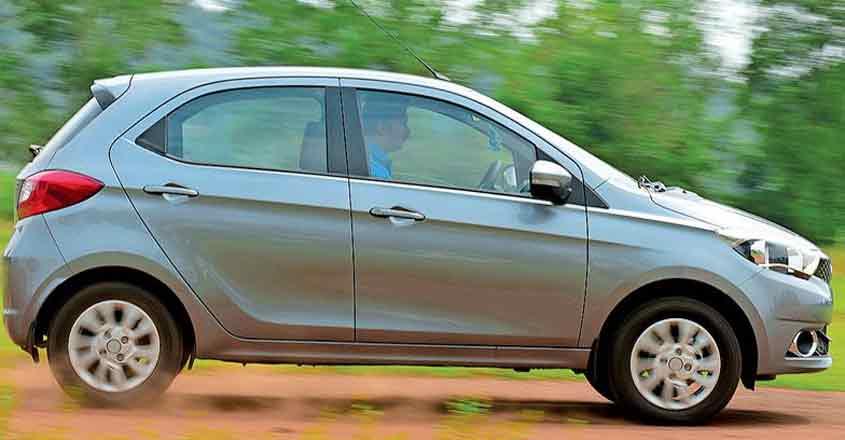 Negatives: The rear is not that attractive
Among the three, Tiago is the biggest in space and strength. It has solid build quality that is rare in small cars. The smiley grille and beautiful alloys complement the body well. The rear design is strictly average. Though it is a small car, Tiago shows that Tata has not compromised on build quality.
INTERIOR
Santro
Positives: Loads of features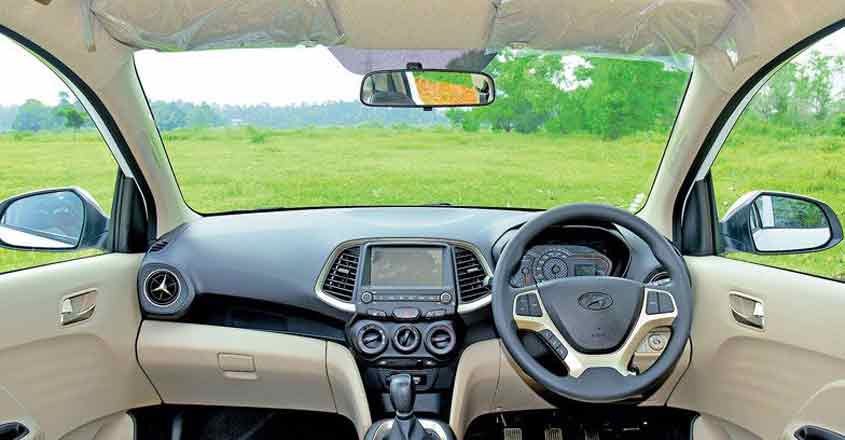 Negatives: Door pads feel like they are thin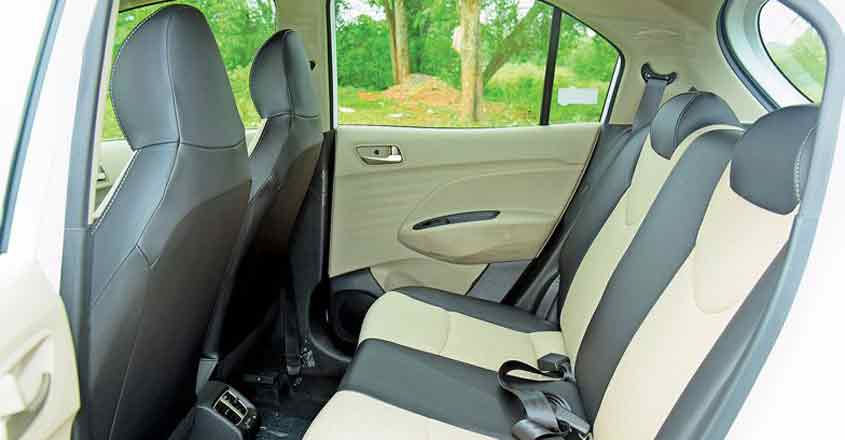 Like all other Hyundai cars, Santro too is feature rich. The touchscreen is compatible with both Android-Apple phones. There is a second screen in the console. The steering wheel with voice command function is finished in dual tones. All these are segment-first features. The power window buttons that are just below the gear lever will make it difficult to use. Hyundai claims that the centre fascia is inspired by elephant and gets centrally positioned power window switches and AC controls. It also gets propeller design shaped AC vents that are usually seen in premium cars. However, the features are limited only to the dashboard as is visible in the thin door pads and seats.
Tiago
Positives: Leagues ahead in quality and fit and finish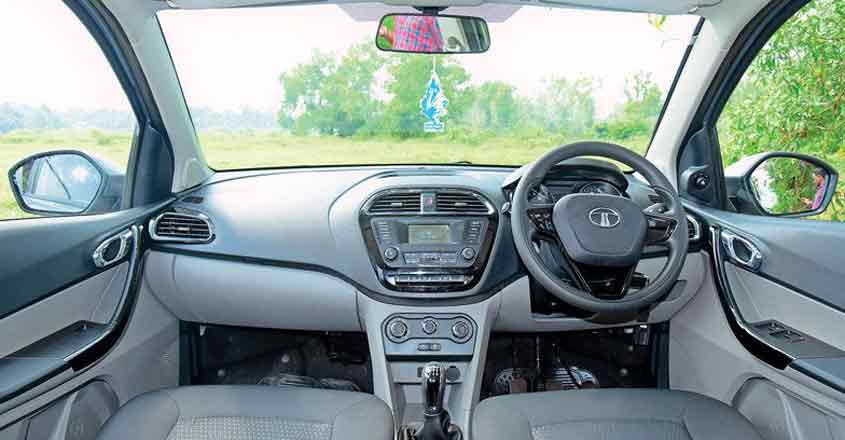 Negatives: No touchscreen and other such features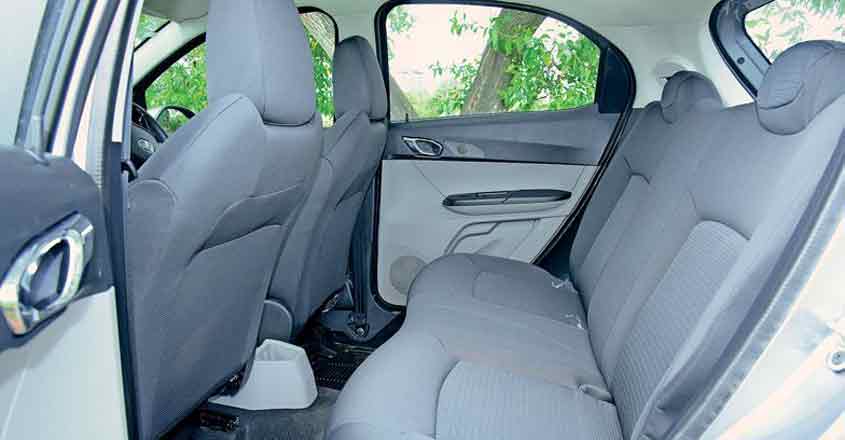 Though Tiago is not feature-rich as Santro, its interiors oozes quality. The plastics used are of good quality and the seats have good under-thigh support. Though it has fewer features, it is difficult to write off Tiago.
Celerio
Positives: Has more space than the other two cars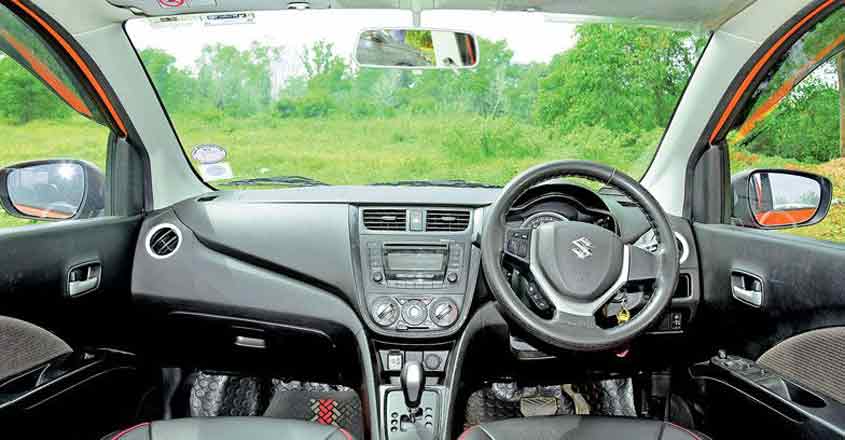 Negatives: No features
Celerio's interiors need no description. It has typical Maruti interiors that are short of features. When compared to Tiago, eyesores like thin door pads stand out. But, when pitted against Santro, the comparison is even in build quality. But Santro scores on the back of features.
MORE SPACE
Celerio has the most legroom among the three. However, from ground to seat, both Celerio and Santro have same height, which means getting in and out of both these cars are easy. All the three have the width same for the backseat. But Tiago has the most under-thigh support and hence offers better comfort, especially during long journeys. All these defences are down to a few centimetres and hence the fight is mostly even here.
Santro
Positives: Rear AV vents, more headroom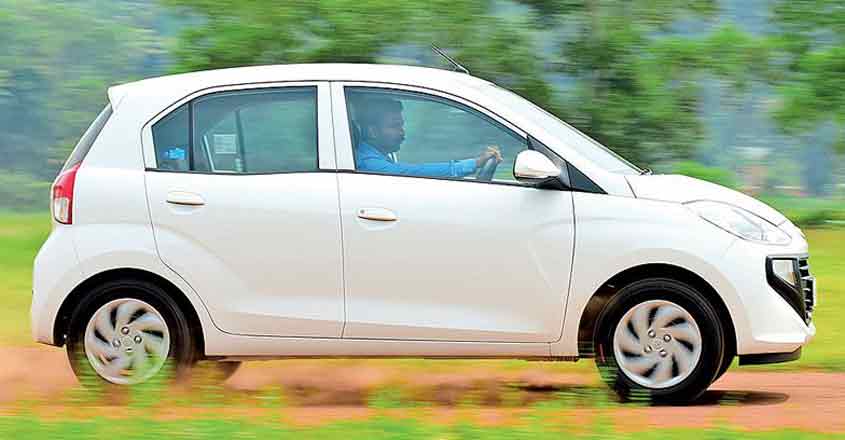 Negatives: Average under-thigh support
Santro scores high with an AC vent in the back. It also does away with the window line that goes up as in Eon. The sloping window line gives better visibility from the inside. Despite the sloping window line, Santro has good shoulder room, which is better than the other two rivals. The glass area in the front is huge.
Tiago
Positives: Seats have good under-thigh support
Negatives: The floor hump is quite tall
Tiago has a headroom similar to that of Celerio. The seats are comfortable. But the floor hump in the middle is quite high. Though Tiago provides good ride comfort for two passengers in the back, because of the hump, a third passenger may not find it that comfortable.
Celerio
Positives: More space
Negatives: Average under-thigh support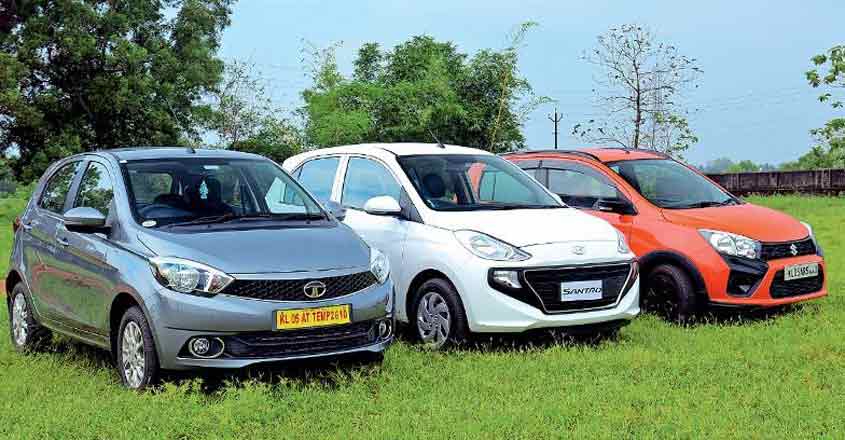 Celerio has the best legroom, but its seats offer only average under-thigh support. Even if the front seats are pushed back, there is decent space available in the back. Since the ground-to-seat height is high, entry and exit are easy. The floor hump is low. The bending outer edge of the seats make those seated on the sides a little uncomfortable when there are three passengers in the back.
ENGINE
Tiago is stronger and better performer here. And it shows while driving too. But Santro's four-cylinder engine is leagues ahead in smoothness. Both Tiago and Celerio have three-cylinder engines.
Which one is good to drive? Tiago is the best driver's car. Santro has a little lag, while Celerio comes somewhere between the two. The plush-riding suspension is a big plus for Tiago. Since Tiago is sprung stiffer, it certainly doesn't have an unsettling amount of body roll. Both Celerio and Santro come close.
SAFETY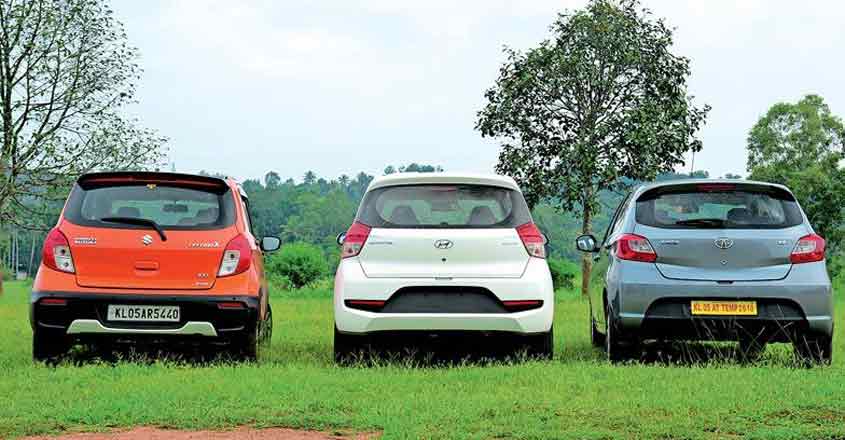 In Celerio, driver-side airbag is standard and in base models, there is no ABS. In Tiago, two airbags are available only from XM variant. The driver-side airbag and ABS-EBD are standard in Santro. Among the three, Tiago has the best build quality.
RATING
Travel comfort: Tiago - 4, Santro 3.5, Celerio - 3.5
Tiago is the clear winner; it has strong build quality and an excellent suspension setup
Engine performance: Tiago - 4, Santro - 3.5, Celerio - 3.5
Tiago has a bigger engine and provides better performance. However, only Santro has a four-cylinder engine here
Features: Tiago 3.5, Santro - 5, Celerio - 3.5
Santro has a touchscreen and AC vents in the rear. Tiago is equipped with a Harman sound system
Design: Tiago - 3.5, Santro - 3, Celerio - 3
Tiago has a sporty design and a stylish body
Legroom: Tiago - 3, Santro - 4, Celerio - 3
Celerio offers the most legroom among the three cars
Seating comfort: Tiago - 4, Santro 3.5, Celerio - 3.5
The seats in Tiago offer more support. Santro and Celerio are tied.
Under-thigh support: Tiago - 4, Santro - 3.5, Celerio - 3.5
Tiago is ahead of the three
Safety features: Tiago - 3, Santro - 4, Celerio - 3.5
Santro has passenger-side airbag and ABS standard.
Fuel efficiency: Tiago - 3.5, Santro - 3, Celerio - 3.5
Tiago has a small upper hand here; Celerio comes a close second
Storage space: Tiago - 3, Santro - 3, Celerio - 3
All three are tied in storage facilities
Rating total (out of 50)
Tiago - 35.5, Santro - 36, Celerio 33.5
THE FINAL WORD
Are you looking for a strong and stylish small car? Then go for Tiago. But that doesn't mean the other two are not good. If you want a feature-rich small car, there is no better option than Santro; it is the only tallboy car that offers a touchscreen and rear AC vents. However, Tiago is not far away, with a Harman sound system and cooled glove box.
PRICE
The feature-loaded Santro Sports is the cheapest among the lot. Tiago XZ variant and Celerio X Zxi model are costlier than Santro. Even if safety and other features are high, Santro is cheaper than the other two. Santro's top variant Asta has reverse camera and parking sensor.
Fast track choice: Santro