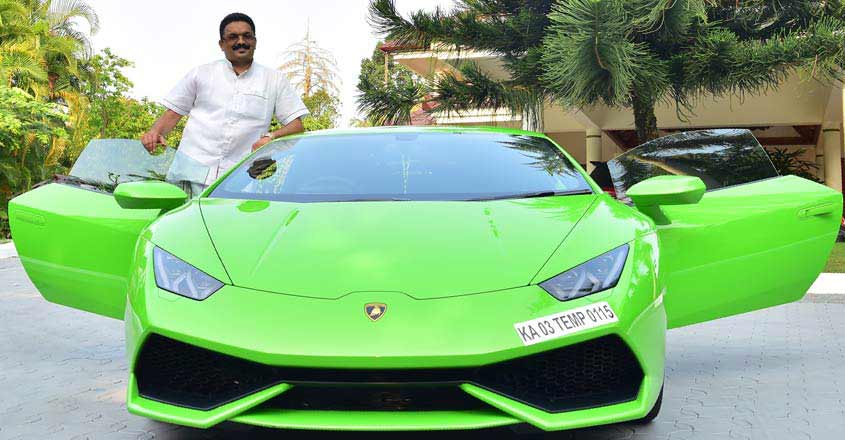 Kottayam: The loud growl and burps of the Lamborghini as it drives down the interior roads of Kumaranellur is a sight and sound to behold for the villagers there. For Rs 5 crore, Kumaranellur Cherukara Cyril Philip became the proud owner of the ultimate dream vehicle of luxury car lovers, the new Lamborghini 610-4. It was a dream come true for expatriate businessman Cyril and his engineering student son Suraj who had been working hard for the past five years to drive home a Lambo.
How it took shape
It is difficult to miss the miniature model of a glittering Lamborghini when you enter Suraj's bedroom. It was five years ago that Suraj told his dad about his dream to own a Lamborghini. Cryil then told him that they both can work together towards realising the dream. He also got his ad agency to make a scale down model of a Lamborghini with a light. They worked hard in their ad agency in the Gulf and their business in Kerala. In fact, they set aside about 18 hours a day. And, gradually they started saving the money for buying their dream car. The day before they were to get the delivery of the car, Suraj couldn't sleep at night thinking about the car in Bengaluru where he studies. Cyril, who was born in a farmer's family in Kidangur, had developed his business through sheer hard work.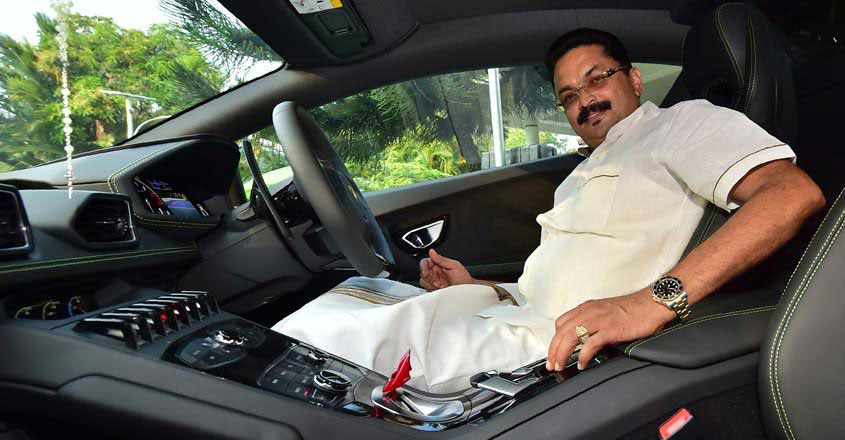 Like a fight jet
The model that Cyril bought was Lamborghini Huracan's latest version. Designed as a tribute to aviation and air force, the driver seat of the car resembles a small fighter jet that has landed on road; the driver seat is surrounded by small buttons and switches that control the car. The two-seater Lamborghini Huracan can hit 100 kmph in three seconds flat.
The four-wheel drive car has a seven-speed automatic transmission. The body has been built with carbon fibre and aluminium. The 5.2-litre V10 that powers it uses a combination of direct and indirect petrol injection, and makes 640 bhp of power. Lamborghini has provided carbon ceramic brakes in the Huracan.
The car can entirely be controlled using the small buttons that surround the driving seat. The camera view that appears on the dashboard is as good as that of an HD channel. The petrol tank can hold 80 litres. Ask about fuel efficiency, and Cyril will tell you that even the company has left that column unfilled. However, he is sure that a litre of petrol can't give you more than two-three kilometres. Lamborghini has showrooms in Bengaluru and Delhi. Cyril, who bought his car from the Bengaluru showroom, was invited with his family to the Lamborghini show in Jaipur and given a royal treatment.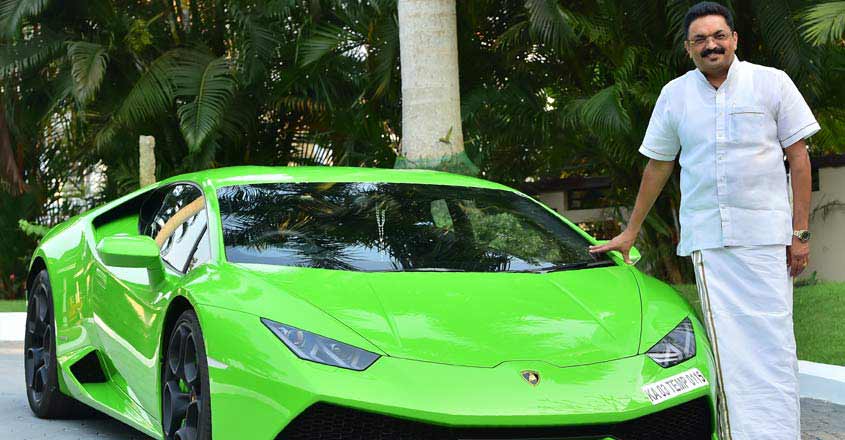 Dreaming cars
Cyril's garage has other luxury cars such as Benz and BMW. Though several people in Kerala have Lamborghinis, it is rare to get the car registered here. Cyril's car was registered at Kottayam RTO and he paid Rs 80 lakh as tax. Cyril and his son Suraj's love for car is supported by wife Solly and daughters Shruthi and Shreya.
Everything is good, but
If you intend to have some fun with the Lamborghini, the moment you press the accelerator, the cameras of the motor vehicles department will catch you red-handed. Even before you reach back home, the fines and notices could be there.