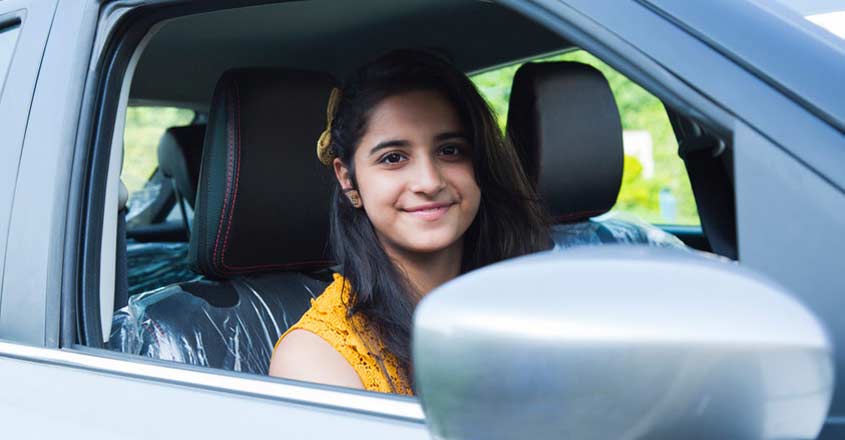 So, your kid has reached 18 years old and is ready to drive. I know there are some parents who teach their children how to drive even before they celebrate their 18th birthday – avoid doing that since they may sneak out in your car and cause an accident with severe consequences. Some kids are naturals and pick up driving but some of them need a proper driving course to learn the ropes.
While teaching how to drive can be a great bonding exercise, it is important that this is done the right way. Let he/she register themselves at a driving school ideally. To begin with apply for a learner's license from your neighbourhood RTO and let your ward go through the whole exercise.
Once they appear for the driving license and pass the mandatory theory and practical test you can start looking for a set of wheels for them. If you are planning to buy a new car for this purpose, do remember that safety is the priority and not performance. No 18-year-old will be ready for a high-performance machine. Allow them time to learn how to drive in a car that they can make least mistakes in. While it is not entirely a bad idea to pass on a family car to your child, do make sure that the vehicle is mechanically sound.
A smart thing to do is to buy a used car which has more safety features than a low-end new car. The best first car is a low mileage example with safety features such as ABS and airbags. While hatchback is a good place to start, there is nothing wrong with looking for a sedan if running costs are not a problem. In short, the first car for you kid does not need to be spanking new – but in the same breath it needn't be an unsafe jalopy.
Once armed with a license and a car, it is time to give him/her some serious practical lessons that only a parent can do. Take the car to an empty stretch of road or a big parking lot and let them get a feel of the car – acceleration, braking, steering, gear changing and so on. They will soon get the judgement right. Make them do parking exercises and teach them how to hold the car in an incline using the clutch. This is such a confidence inspiring thing that your kid will ever be thankful to you.
Then allow them to drive on public roads with limited traffic. Remember that the learning curve will be steeper for some and do not scold them for the minutest of errors. Allow them to go on solo runs to run errands etc after this.
Driving on fast highways and driving in the night will happen gradually.
During this process, do explain how important safety is and how lives of the passengers in the car and of other road users are in their hands while they are driving. The finished product will be a capable young driver driving the right automobile. That also will mean less worry lines on your face!
(Bijoy Kumar Y, a former editor at Business Standard Motoring, heads adventure initiatives at Mahindra and Mahindra Ltd.)