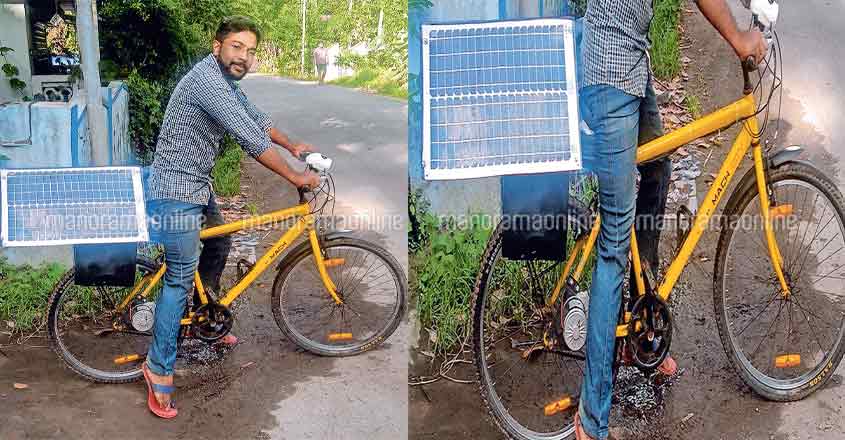 Edathua: This bicycle owned by Venatt Georgie James will travel on sunlight. However, there is no magic here; the bicycle runs on solar power.
Georgie, a BTech graduate, made the solar cycle on his own. He travels nearly 30 km a day on the cycle which can travel at a speed of 25 kmph.
The idea of a solar bicycle took shape in Georgie's mind when he was studying in class 5. He has now realised his dream at the age of 24 with the help of his father James, who is a cycle mechanic.
The technology that he has used is simple. Two 12-volt batteries are fixed on both sides of the cycle in the rear. Above it, two 30-watt solar panels are fitted. Electricity generated are stored in the battery; a digital meter records the battery level.
A 250-watt motor is fixed next to the cog on the rear wheel. An accelerator is on the handle that can be used to control the speed. This is the tech part of the bicycle.
A key is used to start the motor. The battery also powers a horn and a light. An eight-hour charge will provide a 25km range. Georgie claims that the power generated during the travel can offer an unlimited range, provided you travel at a moderate speed. Now, if the power is over, one can pedal it like a normal cycle and continue the journey.
Using lithium ion batteries will offer better efficiency but will be a costly affair, says Georgie. People who have liked the concept have been approaching Georgie for getting a solar cycle made.
Though he has got job offers in several companies, Georgie says that he prefers a job in the solar power-related industry. He has now started a business setting up solar power panels in houses.