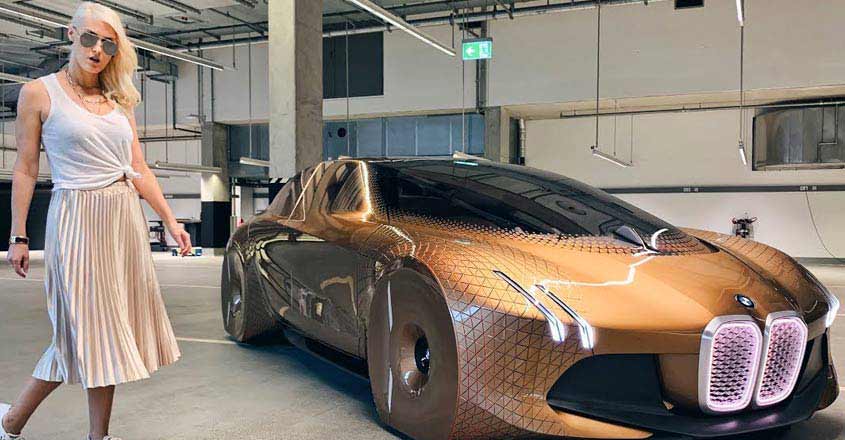 The future belongs to self-driving cars. Tech giants like Google and major carmakers are in the process of developing cars that are capable of sensing their environment and moving safely with little or no human input.
Vision NEXT 100 is one such car that BMW unveiled two years ago as a concept model. A video that brings you up close and personal with the BMW Vision M NEXT has gone viral among auto lovers across the world. In the video, vlogger Supercar Blondie provides the lowdown on the car.
The vlogger says that the sensor that warns the driver about incidents and objects ahead makes it an alive car. Besides this, the video provides several interesting features of the car. It has two different driving modes. Boost mode is for classic, manual driving, but 'ease mode' will make it a self-driving car.
BMW previewed the concept of Vision NEXT 100 as part of its centenary celebrations. The design of the car presents its vision for the next 100 years of automotive development, offering a foretaste of BMW's dynamic future.
The concept car is very different from traditional cars. Instead of traditional headlights it has dual laser wire front headlights. The front-end design sports an oblong, interlinked double-kidney grille that houses various sensors and radars.
Future cars will be fully autonomous. Underscoring this, the BMW Vision NEXT 100 concept has a steering column instead of the conventional steering wheel. The steering column retracts when it is not in use. The autonomous drive mode can be utilised on busy roads too. For sporty driving, drivers can switch to 'boost mode'.
The car's windscreen is large, which serves as a giant display for the driver. BMW is yet to confirm a powertrain for the concept but since BMW calls it an emissions-free car for the future in all likelihood it will get an electric powertrain.
It is expected that BMW will unveil the production version of the concept in the near future.