With a computer and internet access, enterprising women can build sustainable business models at almost no cost.
Sumi, a microbiologist and Meera, a home science graduate are testimony to this.
While Sumi makes around a lakh from her garment business, Meera is a surging favourite for event décor.
Both these women have tapped into the flexible and zero-cost environment of the online workspace to hit a fortune.
Read their success stories here.
Beauty on her fingertips
Any homemaker who wants to do something of her own could take a leaf out of Meera Liz Joji's book. She is running her micro business from a corner of her own home at Njarackal in Ernakulam.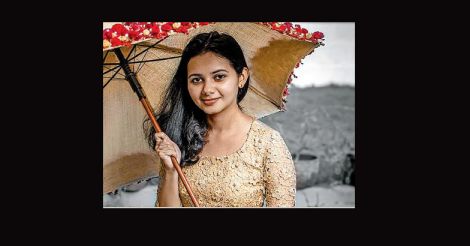 Meera supplies customized cakes, dry-flower arrangement and candles to wedding and birthday parties and other events. Facebook acts as a platform to market her products and services as well as take orders.
It all started as a hobby.
As she had plenty of free time after completing masters in home science, Meera started making cakes and doing flower works at home. She posted the photos of those on her Facebook page. A few friends who were into event management encouraged her to utilize her skills commercially.
The first order was for a baptism event. Everyone liked the decorations with dry flowers.
Since then, she started taking that group's work on a regular basis. Now she supplies customized cakes for birthday parties and weddings.
While studying food technology helped, a crash course in cake making made things better, she says.
Meera gets package deals for cakes and decorations for celebrations like weddings, birthday and anniversary parties and other events.
Most of the time, the orders come through Facebook, where her prospective customers were already familiar with her work thorough the phones posted on the page and the comments.
Wedding season is the busiest for her. She makes around Rs 20,000 month.
Meera takes up work only in nearby locations due to logistical reasons.
While Facebook has given her exposure, opportunities are limited in a small place like Njarackal, she says. That put constraints on income as well.
She has now relocated to Kochi. The plan is to expand the business, further leveraging the possibilities that social media offers — this young entrepreneur is quite confident.
The microbiologist who fell for textiles
Sumi had a natural liking to garment making — she grew up watching her mother running a small textile and stitching shop. Today she is running a designer boutique Exotica Designer Clothes, near High Court in Kochi and her income is nearly Rs 1 lakh in a month.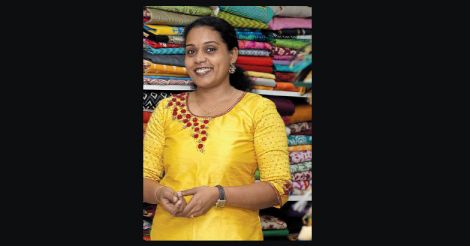 Sumi
Suni had taken up a job as a microbiologist after studies, but that wasn't where her interest lay. She quit to start a garment-related business of her own.
She launched her small venture in 2007, with three or four types of kurtas that could go with jeans.
Sumi picked up the fabric herself from three-four shops and got those stitched by people she knew based on the designs she provided. The photos were posted on Facebook, and in no time, all those found takers.
This initial experience gave Sumi the confidence to take up the business seriously, utilizing the power of social media. Facebook and WhatsApp were her first platforms.
Usually, she uploads a preview post a couple of days before a new product is launched. That will be followed with complete details and photos.
Based on customer enquiries, she sends the size charts. Once she gets the order and the money is transferred to her account, she would courier the product to the buyer. Courier charge is levied extra.
If the order is from outside India, the delivery may take up to 20 days.
For payment, several options including bank transfer are available.
Usually there aren't any issues with the size of the dress she supplies. But, if a customer didn't like the product for any reason once it reached her, she could return it. The money already paid isn't usually given back. Instead the value would be adjusted against the next purchase.
Now, she also does wholesale business via online.
It would be good if you make an offer at the beginning to entice the customer, Sumi advises those who want to enter the field. When she started, Sumi shipped products to anywhere in India free of courier charges. That was an initial, short-term offer.
She also advises complete focus on quality, design and response. There shouldn't be an instance when the customer wasn't able to contact you after seeing a product online.
Ensure prompt response, she says. If you are away for a few days, put that information on the social media page.
An advantage of the online platform is that you could present your products well — space isn't a limiting factor.
If you go to an offline shop, you may miss some great stuff among thousands of others. But here, even the smallest features will not go unnoticed.
Also, the cost is huge if you want to start a brick-and-mortar shop. That's not the case here.
Sumi now has a stitching unit, employing a few staff, to cater to increasing demand from customers. She has also opened a shop.
While she initially purchased fabrics from shops in Ernakulam and got those stitched according to the designs she provided, now she travels across India to chose textiles.