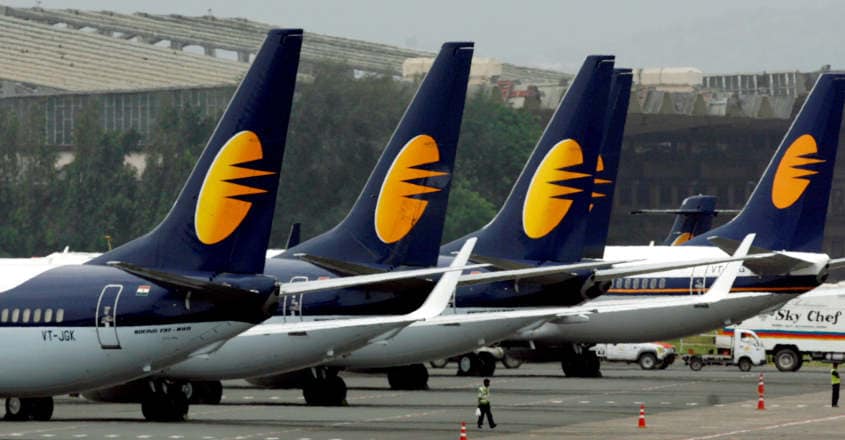 Mumbai: With pilots threatening 'non-cooperation' in the coming days over delay in pay, crisis-hit Jet Airways has assured to clear 50 per cent of their August salary by September 11.
The full service airline expects to pay the remaining amount by September 26, sources privy to the development told PTI.
The Naresh Goyal-promoted carrier, in which Etihad holds 24 per cent stake, is grappling with acute financial crunch after two back-to-back quarterly losses.
The salaries will continue to be paid in two instalments for the next months, the sources said.
"Withholding salaries, that too without prior notice, is a serious matter and the management will bear sole responsibility for any repercussions," Jet Airways' pilots said in a communication to the management earlier this week.
"We would like to advise that failure to address the above points and not paying the salaries on time would lead to non-cooperation by pilots," they warned.
The salaries for the month of August have been delayed. In a statement, a Jet Airways' spokesperson said the management is in dialogue with the pilots and other members of its team to resolve some issues, including disbursement of salaries.
Significantly, Jet Airways had delayed payment of July salaries to its staff.
"Our issues such as the disbursement of salaries, are being amicably addressed and we continue to resolve ongoing concerns through constant dialogue with the airline's management team," the National Aviator's Guild (NAG) said in a statement.
The NAG, a grouping of around 1,000 pilots of Jet Airways, also said the management has been receptive of the cost saving initiatives suggested by it.
In June, the airline proposed up to 25 per cent cut in salaries of its employees but deferred the plan following opposition from its pilots' union and engineers.
"(Earlier) it was agreed that, henceforth, salaries would be paid on time and, if there were to be a delay, the same would be communicated to the pilots well in time," the pilots said.
"We are deeply disappointed over both these conditions being violated by the management and the pilot body would be sure to share our disappointment," they said.
The airline reported a loss of Rs 1,036 crore in the three months ended March this year and the same widened to Rs 1,300 crore in the June quarter.