Thiruvananthapuram: Kerala government, through an order issued on January 23, decided to pay State Youth Commission Chairperson Chintha Jerome Rs 8 lakh as salary arrears. But the very order that has sanctioned this largesse exposed as false her claim that she had not asked for the money.
The order issued by Sports and Youth Affairs principal secretary M Sivasankar refers to the letter Jerome had sent to the Sports and Youth Affairs Department requesting the payment of arrears for nearly 17 months.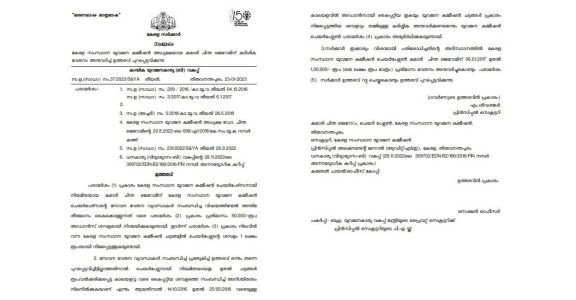 In the letter, Jerome had asked that she be paid the difference between the "advance" of Rs 50,000 that she was paid from October 10, 2016 (her date of appointment) and the new salary fixed for the chairperson on April 25, 2018 when the Youth Commission Rules came into force.
Jerome had till now maintained that she had not written such a letter, nor had asked for any payment.

Chintha was appointed the Youth Commission chairperson in October 2016 a few months after the first Pinarayi Vijayan Cabinet was sworn in. The decision then was to pay Rs 50,000 per month, until the service and pay conditions were fixed.
In 2018 May, the pay was fixed at Rs 1 lakh per month, and Chintha started receiving the revised amount as her monthly pay. However, Chintha sought the Government to pay Rs 9 lakh arrears for the previous 18 months as she was only paid Rs 50,000 per month. But her request was initially denied. When she approached the Government with the same demand, it was approved.
However, when it became a controversy, the government decided not to pay the arrears immediately.
With the latest order, the government has cleared all decks for Chintha to receive the amount.