If the Congress were to win just one seat in the past few assembly elections in Kerala, that would have been Puthuppally. The reason – Oommen Chandy.
No matter how turbulent the political climate was for the Congress or even for Chandy himself, Puthuppally could never just think of electing another person as its MLA ever since 1970 when the people of the constituency sent the future chief minister to the state assembly for the first time. Chandy, the then state president of the Youth Congress, was just just over 26. He went on to win 11 more elections from the same constituency, setting, in August last year, the record of being the longest-serving legislator in the state. During the over 50 years he served as the Puthuppally MLA, he became the chief minister of the state twice and a minister four times.
It would now be hard to believe, when Chandy entered the poll fray for the first time in 1970, Puthuppally was considered to be a seat with least chance of win for the Congress in Kottayam district. Chandy rather had an accidental entry into the poll fray. He always remembered it to be "a people's election" which not only defined his political career but also shaped his lifelong relation with the land and its people.
The 1970 elections were held when the Congress was split following the expulsion of Indira Gandhi the previous year. "The party was then split into INC (Organisation) and the Indira faction. The entire party had drifted to the INC (O) and there was almost no one on the other side. Kottayam had 11 assembly seats then. Rated on the probability of winning, Puthupally held the last spot. So, when ally RSP asked for a seat in Kottayam, the party offered them Puthupally that had the least chance of winning.
"I, however, didn't have the courage to tell the leaders to not give up the seat. So, I decided not to contest in that election," Chandy recollected his first election in an interview with Onmanorama in 2021 when he had completed 50 years as Puthuppally's MLA. "It was then that RSP leader Sreekandan Nair told M N Govindan Nair (a stalwart of the CPI, then a Congress ally in the state) that they didn't have the right candidate for Puthupally. Instead, they asked for the nearby Akalakunnam seat. M N Govindan Nair knew that A K Antony and Vayalar Ravi wanted me to contest from Puthupally. He called them and informed them about RSP's decision. That is how I came into the electoral politics.
"I didn't know anything about election or politics then, had no followers and the party too didn't have an election committee. It was the people who actually conducted that election. I was just past 26 then. There were students and some Youth Congress workers with us.
"But that wasn't enough to form a proper election agenda or help with the campaigning. People understood this and they formed committees in the five panchayats. They bore the expenses and took charge of everything. So, my first election belonged to the people. It formed a special bond between me and the people of this constituency," Chandy said.
He did not have to look back since then with his party bouncing back with renewed strength by the next election. "But the cooperation, love and support that I experienced from the people during my first election had really touched my heart. It even brought a change in how I perceive politics," he said.
Chandy defeated CPM veteran E M George in 1970. P C Cherian of Bharatiya Lok Dal, MRG Paicker of National Democratic Party and Thomas Rajan of Indian Congress (Socialist) tasted defeats from him in the next three polls (1977, 80 and 82). Since 1987, the CPM has been trying every possible trick to unseat Chandy from Puthuppally, but in vain. The Communist party had fielded its young and influential leaders like V N Vasavan (1987, 91) and Reji Zacharia (1996) in the next three polls. In 2001, it pitted Cherian Philip, once a close confidante of Chandy's political guru A K Antony, against him. After that it was the turn of two woman leaders – Sindhu Joy and Suja Susan George – in 2006 and 2011 to take on the mighty Chandy. In 2016 and 2021, the CPM assigned its young face Jaik C Thomas, also a native of Puthuppally, to make it a contest for the Congress veteran. But Puthuppally stood with its leader, fondly called 'Kunjoonju'. Thomas, however, has been able to bring down Chandy's winning margin to just 9,044 votes in 2021 from the 27,092 five years ago.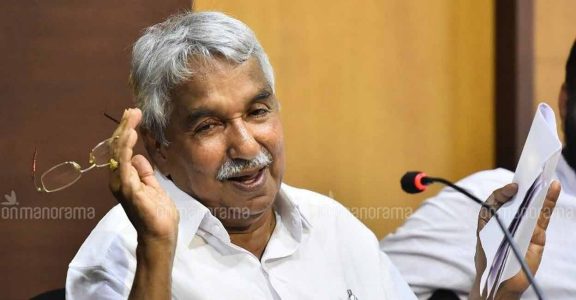 What kept Chandy winning?
Even his political opponents, without exaggerating, say that Chandy knew the people of Puthuppally by their names. It was this personal connect along with his ever-rising stature as a Congress leader that ensured his win every time. The people of Puthuppally never lost their trust in him even when he had to face shocking allegations, especially during the peak of his career. The now fizzled out solar scam which kept his government on tenterhooks during 2011-16 was undoubtedly one of the reasons for the Congress-led United Democratic Front's rout in 2016. But the election results showed that it had no impact on Puthuppally's faith in Chandy. His winning margin stood at 27,092 votes that election; his second best following the 33,255 in 2011.
Asked about his celebrated bond with his native place, the soft-spoken Chandy said: "I share unique bonds with every home in Puthuppally. All the members in many families may have voted for me; in case they are in the opposite group, at least one member would have voted for me. Or the kids there may have shouted slogans for me. The close ties with these families have even influenced my character. It motivated me to not oppose anyone or take extreme actions that could upset them. There isn't a single home in my constituency where I haven't visited at least once. My relationship with the constituency is beyond political reasons. It genuinely bothers me in case I am not at place, if a death happens in a family or when they need me. This close bond with the constituency is the reason why I don't really like leaving Kerala."
No wonder, Chandy named his residence in Thiruvananthapuram, 'Puthuppally'.