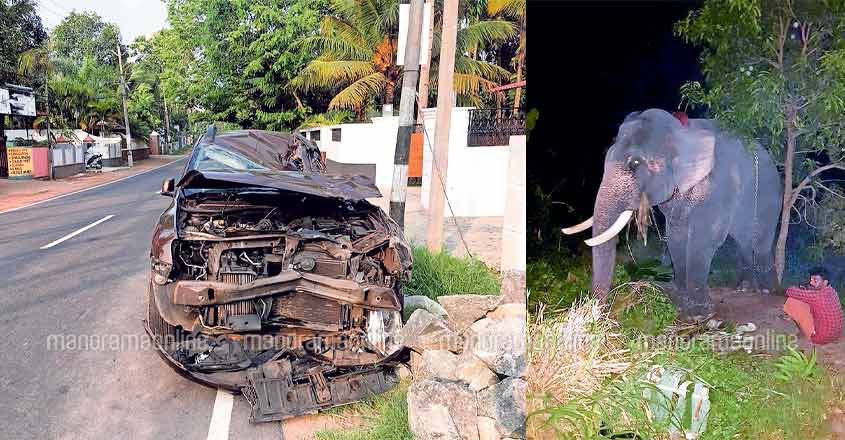 Chengannur: An elephant and its mahout were injured after a speeding car hit the animal. The car was completely destroyed when the elephant, due to the force of the collision, sat on top of the vehicle.
The elephant Peringilipuram Appu owned by Peringilipuram Bhuvaneswari trust was injured in the accident. Meanwhile, the first mahout Ilanjimel Mangalathu Gopinatha Pillai (50) fell off the elephant and was rushed to a private hospital in Thattarambalam.
The accident took place near the Puliyoor village office at the Mavelikkara – Kozhencherry road. Pillai and his assistant Gokul were walking the elephant back to Peringilipuram after attending the Thiruvanvandoor elephant festival. The police said that the car which came from the Chengannur direction had lost control before hitting the elephant from behind.
The elephant has injuries on its tail and right hind leg. Kollakadavu native Kiran and his two children, who were in the car escaped unhurt. It was Kiran who drove the car. Following the accident, the elephant was tethered at the nearby Puliyoor temple grounds. Dr K Unnikrishnan, chief veterinary officer at the district veterinary center examined the elephant here. It was transferred to Peringilipuram later.