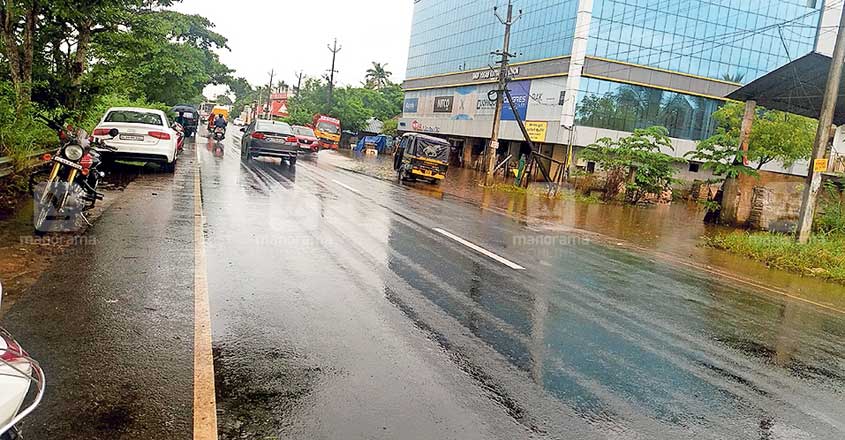 Edathua: Roads in the coastal district of Alappuzha are often flooded after incessant rainfall during monsoons. After the recent downpour too the roads were marooned as usual and some get inundated even during minor floods. Increasing the height of the roads has been suggested as an enduring solution to the issue.
The roads that could be raised in the region are the ones joining the critical Alappuzha-Changanassery Road, Ambalapuzha-Thiruvalla state highway, Edathua-Veeyupuram road that connects to the national highway, and the Edathua Parathode-Alumturuthi road that enters the MC Road.
These roads pass through Edathua, Chambakulam, Neerettupuram and Muttar. If these flood-prone roads are raised, then at least the southern region of Kuttanad would be accessible during the floods.
Though tenders are often issued for constructing raised roads, the work somehow doesn't materialise.
The construction of 6km Edathua-Thayamkary road is under way after a tender was given for Rs 8 crore. During the recent floods, water level on the road at several locations was between 1 to 2 feet. Waterlogging can be avoided in such areas if the roads are raised.
Tender has also been issued for the 3.7km-stretch of Edathua-Veeyupuram road at a cost of Rs 4 crore. The water level was at 2ft from Koyilmukku Junction at Edathua to Mangottuchira in mid-August. Even the Kerala State Road Transport Corporation (KSRTC) had to curtail services after the road got flooded. If at least a 1km-stretch of the road was raised, waterlogging could be reduced.
When crores of rupees are needed for carrying out the maintenance works of roads every year, it is prudent to raise new roads that are being built to a level where they are not submerged.