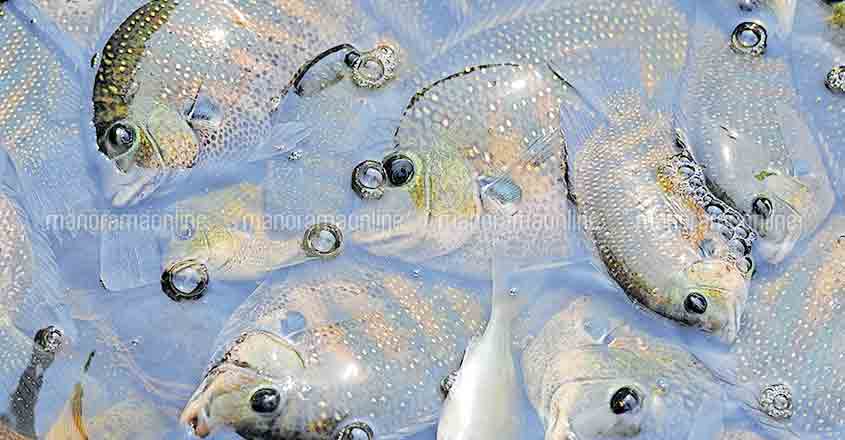 Edathua: There is a marked dip in inland fish wealth after floods wreaked havoc in many parts of Kerala, according to fishers here in Alappuzha district.
As the fish breed in the months of June and July, schools of fish are found in inland water bodies during that period. But unfortunately this time around, heavy torrential rains and surging waters washed away fishlings and fish eggs to the polluted lakes leading to their destruction. And this adversely affected inlands fisheries, the fishermen noted.
Different varieties of fish such as 'Vaala' (Boal), 'Kairmeen' (Pearl spot), 'Varaal' (Snake head fish), 'Konju' (Prawns), 'Thooli', 'Kuruva' (Peninsular olive barb), 'Cherumeen' (Great snake head), 'Manjakoori' (Yellow catfish) and 'Arakan' (Water eel), which were found abundantly in Kuttanad and Upper Kuttanad regions, are now becoming scarce. The prices of these fish have also skyrocketed due to depleting fish catch.
One has to shell out Rs 400 to Rs 450 to buy a kg of boal which was sold at Rs 300 to Rs 350 before the floods. The price of pearl spot has jumped from Rs 350 to Rs 450, prawns from Rs 550 to Rs 700, peninsular olive barb from Rs 100 to Rs 150 and yellow catfish from Rs 200 to Rs 250. The income from fishing is meagre as a person, who will be part of a 10-member group, can earn only Rs 1,500 in one outing. As the flood waters had taken fish farmed in paddy fields to the rivers, a good catch can be had from these water systems but there is less demand for such varieties of fish. With the influx of 'red belly' species of fish into the rivers, the native fish varieties are on a decline. The practice of using 'nanju', a poisonous fish berry, and fishing nets laced with poison have also contributed to the dip in fish catch. The inland fishers are of the opinion that the Fisheries Department should take the initiative to release more native fishlings into the rivers and other water bodies.