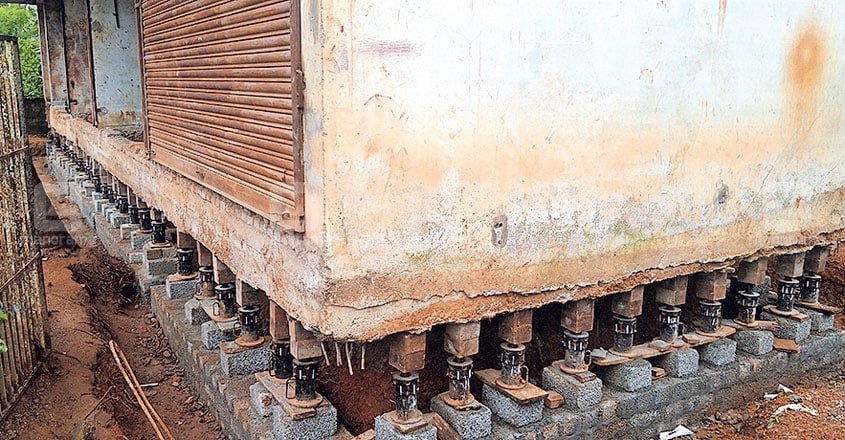 Edathua: Once bitten twice shy. Residents of the low-lying Kuttanad region in Kerala's Alappuzha district are wary of floods after the area was submerged for several days as the state as a whole witnessed a calamitous flood last year. Now, several homes and shops are being raised by a few feet in a bid to avoid another ordeal during floods.
With the roads being raised, buildings in low-lying areas started getting flooded even during minor instances of waterlogging. The owners of houses and shops thus have no other option, but to raise their buildings too.
Shops with raised ceilings are increasing the height of the floor by 2 ft. Those buildings which do not have such a provision are being raised with the help of labourers using jack stands.
Works have begun to lift an entire shop with six rooms at Koyil Mukku. A Haryana-based company has been given the contract. Around 135 jack stands are being used at this site alone.
The company staff said that they have been given a contract to lift 11 houses in the southern region of Kuttanad. A 1,800-sqft house at Changankary was raised a couple of months ago. One house at Kozhappakalam in Edathua was raised by 5 ft.
To lift 1 sqft of area, the rate is Rs 200.
These days new buildings are constructed at a height of 5 to 6ft from the surface considering the frequent floods in Kuttanad. Low-cost houses without cement and bricks are also being increasingly constructed.