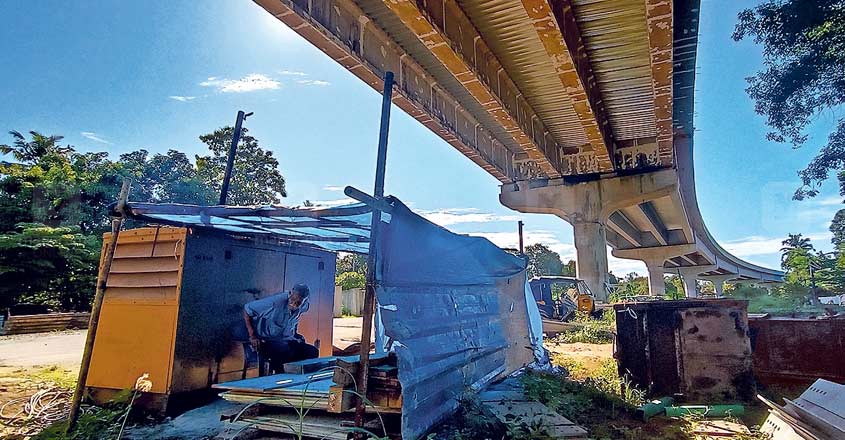 Alappuzha: A bypass road around Alappuzha town has been a dream of the town folk for over four decades. Unfortunately, its construction had been stalled for the past six months over a minor issue. Fed up with the inordinate delay, the local residents are planning a protest against the apathy of the officials concerned in completing the project and throwing open the bypass for vehicular traffic. Meanwhile, authorities are refusing to own up for the inordinate delay in completing the project.
What is standing in the way of the commissioning the much-awaited road is a 1.5 cm flaw noticed under a girder that is part of the rail overbridge that is part of the bypass.  A railway inspection team found a 1.5 cm difference in the girder's camber, the arched shape part at its base.
Only construction on a 200 m stretch has to be completed on the 6.8 km-long bypass.
"Ninety-six per cent of work is over. The state government gave Rs 7 crore, which was sourced by the centre and state, to the Railways in April. The flaw detected by the Railways had been rectified and the state government has done everything possible. Now the Railways is dragging its feet on the project," G Sudhakaran, Kerala PWD Minister and Ambalappuzha MLA, asserted.
Many organisations, as well as political and cultural leaders, are backing the agitation. Members of 'Voice of Alappuzha', a social media group, are planning to stage the protest under the banner 'We want bypass'.
"The local people had convened a meeting to chalk out the protest plans. The Alappuzha Municipality had passed a resolution extending support to the protest by local residents," said former municipality chairman Thomas Joseph.
"Work is not progressing for the past six months. Centre and the state government should iron out the differences. People's patience should not be tested,"  KC Venugopal, former MP, said.
The Kerala Public Works Department had categorically stated that the flaw had been rectified, but the Railways team which conducted a re-inspection was not impressed.
"I had discussions with many people, including ministers. The bypass authorities and Railways should find a way out. The Railways team that conducted inspection for three times will again inspect the bypass shortly," A M Ariff, MP, stated.