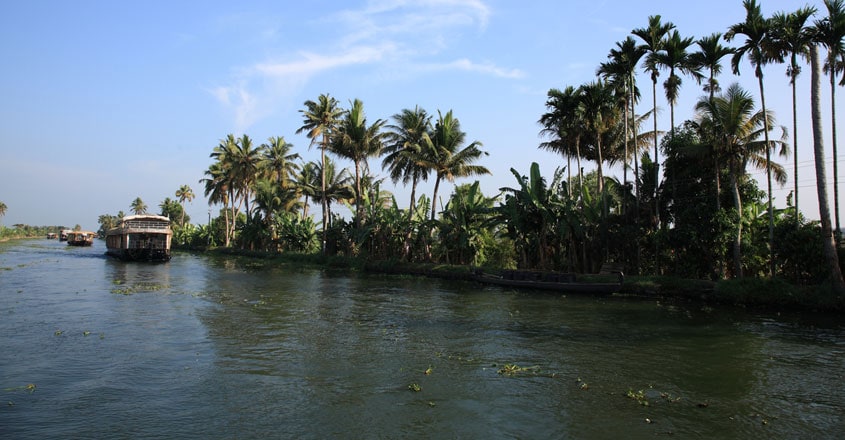 Alappuzha: Kerala is famed for its backwaters and Vembanad Lake takes the pride of place in many images of the state. Unfortunately, the state is witnessing the adverse impact of significant climate change and unbridled human intervention in its natural aspects. Researchers warn that the shrinking Vembanad Lake, the longest lake in India and the largest in Kerala, would soon turn into a marshy land.
Plants have started to grow in areas where the lake's depth has decreased due to accumulation of silt, according to a study conducted by International Research and Training Centre for Below Sea-level Farming.
As these plants start to grow taller, the lake would become a swamp. The water body, undoubtedly, is in danger due to encroachments and lack of conservation, the researchers noted.
The seeds in the silt sprouted where the depth was less than six feet and the sunshine reached the lake bed, said Centre director Dr K G Padmakumar.
Earlier, the Kuttanad farmers used to dig out the silt and sediments accumulated in the lake bed to fill the fields and for other farming purposes, but now that is rarely practised, resulting in a marked dip in the lake's depth.
It was also found that the base of many fields in Kuttanad is replete with water. The ground level of fields has also dropped as they are not filled with silt from the lake, and this will also affect the buildings in the area.
Though water level can increase in the low-lying Kuttanad region, xcess water from Vembanad Lake is not reaching channels, thus facilitating outflow of water. There isn't enough water to flow through the Thottappally spillway too. Many studies had found that accumulation of silt and presence of water weeds had blocked the outflow of water, resulting in water logging in Kuttanad.
Adding to concerns, the salinity of Vembanad Lake is currently at an all-time high. Earlier, the salinity was 11 PPT (parts per thousand) in areas up to Vaikkom, but now the salinity level was 23 PPT in the months of February and March. (The salinity of sea water is generally in the range of 33 to 37% world over. The percentage denotes the quantity of dissolved salts in a liter.)
Last year it was reported that piranhas (red belly fish) were found in the Vembanad Lake. This also raised concerns over the consequences it could have on the ecosystem.
Piranha, a predatory species that feeds on other fish and animals, is a fresh water fish native to South America. Rearing of piranha has been banned by the Kerala Fisheries Department, but it was being illegally kept by fish farmers in the state.
It is believed that the floods enabled piranhas to find their way to the Vembanad Lake which covers an area of 2,114 sq.