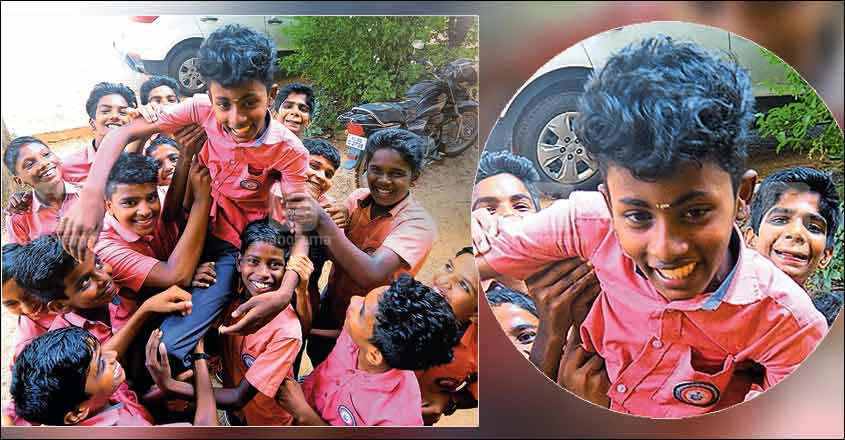 Alappuzha: Sunil, a Class 8 student, is now a 'Superhero' in his school after saving two-and-a-half-year-old Safna from drowning. The youngster recalls the incident: "I and my uncle Balu had noticed that a child had fallen into the pond and picked her up. She was hardly moving at that time."
Sunil and Balu then recalled some scenes in movies which showed rescue efforts and pressed the child's stomach. "As a result, she vomited some water," says Sunil. They then took Safna to her house, which was nearby. The child's parents learnt that she had been in danger only then.
Sunil still shudders while remembering the timely act that saved Safna, daughter of Vadakke Thayyil Noushad and Saumila of Ponnad in Mannanchery ward 2.
Sunil's friends at A B Vilasam Higher Secondary School, where he studies, and the teachers there along with several local people reached Sunil's house at Cherukodu in Kavungal, Mannanchery to congratulate the brave boy. However, they were in for a shock, finding that the youngster's big family comprising his mother Kaveri, siblings Sudheesh, Sudhan and Sukanya as well as grandmother Sarasu lived in a half-built single room hut. Their father had abandoned them and Kaveri made a living selling kitchen knives. The family had arrived in the area several years ago as gipsies.
Incidentally, the favourite subject of Sunil and his siblings is Mathematics. No wonder, the youngster is making calculations to buy a gift for Safna.
A day after saving the child, he had visited her house to enquire about her condition. Safna is now in hospital and Sunil spoke to her mother over the phone. "I'll meet her when she is discharged from hospital and reaches home. I hope my mother would be able to afford a big teddy bear as a present to Safna," he says.