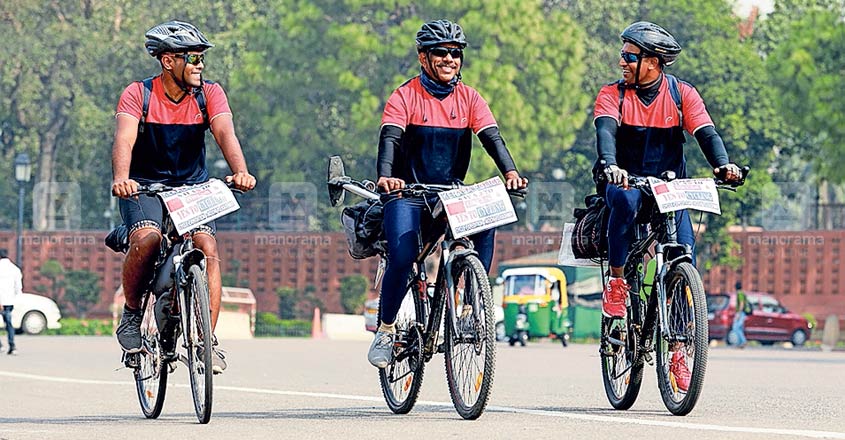 Alappuzha: Three Kerala cops undertook a cycle expedition from Kochi to Kashmir to spread a strong message against drug abuse.
V S Navas, a Circle Inspector, M K Vinil and Alex Varkey, both civil police officers, reached Kashmir after traversing through 12 states in 40 days. The cross-country ride offered them several memorable occasions and insights into life.
The trio started the cycle expedition from the police commissionerate in Kochi on October 5 and they were received by police and members of Malayali associations at various places during their cross-country ride.
The trio was the chief guest at the 'Malayala Bhasha Varacharanam' function at the Kerala House in New Delhi and there they met Kerala DGP Loknath Behera. He complimented our efforts and told that he would try to consider our leave, which was taken for the expedition, as being on duty as the cycle trip was for a noble cause.
God-sent mechanic
Recollecting an unforgettable incident during the trip, Navas said, "Our bike developed a snag while travelling through Pune and we were stranded on the road in heavy rain. Suddenly a man on a bike came our way, as if send by God, and incidentally he was a cycle mechanic. He rectified the defect and we continued our journey."
Students stump cops
An innocent question raised by students of a school in rural Rajasthan stunned the cops. When Navas enquired whether they had lunch, to which the students nonchalantly asked, "What's a lunch?"
"For them lunch is something alien. They have food only at night when their parents cook the traditional 'roti'. If there is any leftover, the children will have it in the morning, otherwise they will go to school on an empty stomach," noted Navas.
No brakes on dreams
"The next aim is to travel through the north-eastern states before 2021. Other ambitious goal is to cycle across the world before retiring from service," said Navas.
The cyclists
Navas, who took charge as the Aluva Circle Inspector on December 31, was in the news about six months ago as he went missing for two days reportedly owing to work pressure and harassment at the hands of higher officials. After that incident the problems faced by police officers became a talking point.
Vinil is based at the Ambalappuzha police station and Varkey is from the Thottapally coastal police station, both in Alappuzha district.