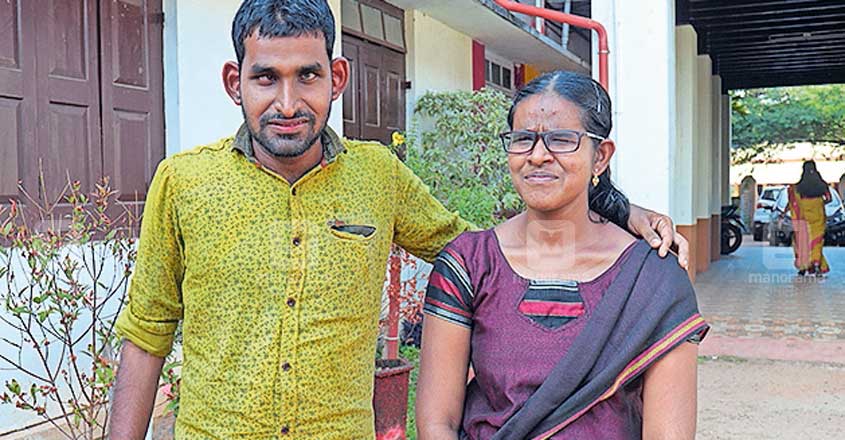 Mavelikkara: Dream big and keep your eyes on the stars... This dictum is followed by a visually challenged youth and his sister who despite their travails have set sight on clearing the challenging Indian Civil Service Examination. Their pursuit will be an eye-opener to all who are overwhelmed when faced with adversities.
Binu Mathai (26) and his sister Bincy Mathai (27) were born blind. They have a dream of clearing the civil services examinations and are putting all the extra efforts to turn this dream into a reality.
The life story of two civil servants that were available in braille script kindled their dream of a career in civil services. They were influenced by the struggle of Lipin Raj who came from a humble background to clear the civil services examinations with flying colours. Another inspiration was an article highlighting the achievements of IPS officer B Sandhya.
Influenced by these articles, Binu thought of taking up the challenge of clearing the civil services examination. When he talked to his sister Bincy about his dreams, she also got interested in a career in civil services. They have the full backing of their parents Mathai and Ani of Chettilavil House of Vanmazhy area in Chengannoor.
Both the brother and sister completed their education from the Dewaswom Board Pamba College, Parumala, and University College, Thiruvananthapuram. The brother is a post-graduate in Economics and his sister, a PG in History.
Both are currently undergoing training at the Kerala State Civil Services Academy. The books available on braille script and lessons they hear are the resources the siblings utilise for preparations for the civil services examinations.
The siblings hailing from an economically backward family are supported in their endeavour by their teachers, friends and neighbours. They had to spend around 41 days in a relief camp when the floods of 2018 devastated Chengannur.
Efforts to bring the differently abled persons to the mainstream will be our priority, said the siblings unanimously while they came down to Mavelikkara to attend the Louise Braille commemorative meeting organised by the Kerala Federation of the Blind.