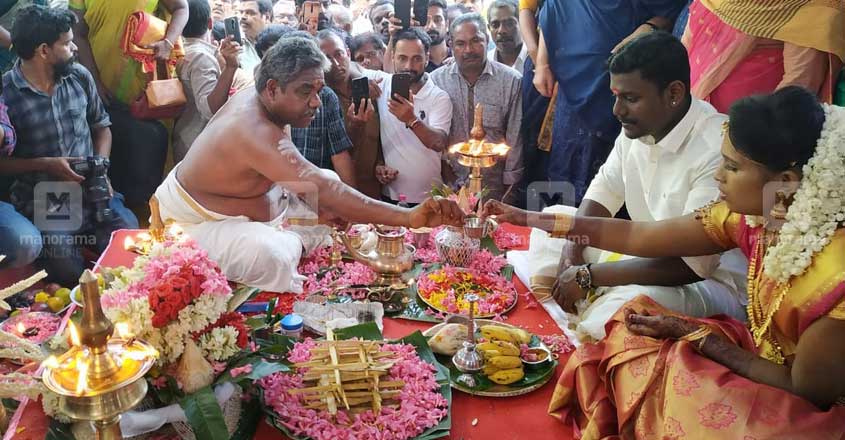 Kayamkulam: Wedding is special but one organised by people of other faiths could be even more special. This rare event happened as a Hindu couple tied the knot on the premises of the Cheravally Mosque here in Kerala's Alappuzha district on Sunday.
The wedding was organised by the Cheravally Muslim Jamaath Committee after it stepped in to help the family of the bride.
A native of Cheravally, Anju got married to Sharath as per the Hindu customs at the premises of the mosque. The arrangements for the wedding venue and the feast were all made by the Jamaath Committee.
Anju is the daughter of Bindu and late Ashokan, while Sharath is the son of Krishnapuram natives Shashidharan and Mini.
After the demise of her husband, Bindu struggled to make both ends meet. She sought the help of her neighbour Nujumudeen Alummoottil, a Jamaath secretary, to conduct her daughter's wedding. He had asked her to approach the Jamaath Committee. Bindu did not worry about religious differences, while seeking aid. The committee overseeing the mosque's affairs too had no apprehension.
All the members of the committee united to organise the wedding and ordered a feast for 2,500 people. Arrangements were made for 200 guests to be seated at the wedding venue. Also, a tent was also raised outside.
Scores of people, more than those who were invited, turned up to witness the wedding, which was lauded as an example of religious harmony.
The invitation card prepared by the Jamaath Committee was widely shared on social media a fortnight ago. The wedding has been touted as a symbol of religious harmony.