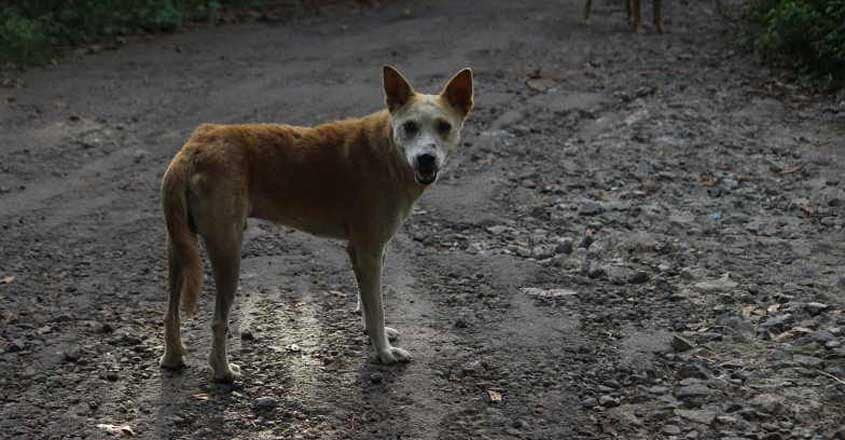 Thuravoor (Alappuzha): Fear stalks Neendakara area at Ezhupunna in Kerala's coastal Alappuzha district as an unidentified man hacked several dogs fatally under the cover of darkness in the last few days. As people panicked and failed to capture the elusive assailant on their own, police stepped in but its personnel too are clueless.
A woman from Neendakara gave a statement that the stranger who was said to be behind the incident was again spotted on Friday night. Though, police intensified the search operations after this, they could not find the culprit. District police chief James Joseph reached Aroor Police station to take stock of the situation.
The stranger reportedly wears a mask and roams around carrying a sword.
The stranger was reportedly spotted in an area one kilometre away from the place where the killings of pet dogs had taken place earlier. Though the police conducted an intensified combing operation in the area, the culprit could not be caught. Following the directive from the district police chief an intensive search of the area was conducted jointly by the police personnel attached to the Aroor and Kuthiyathode police stations on Saturday.
The patrolling team will be led by Cherthala DySP K G Lal. Apart from that, squads comprising of local people have also been formed. It has been two weeks since the unidentified person began to kill pet dogs in the area. At first he killed the dogs by poisoning them. Later, in the period between February 10 and 13 he began to hack the dogs and killed them by severely mutilating. This was when the people of the locality began to notice a clear pattern in the killing of the dogs.
At least six dogs in the Neendakara area of the Ezhupunna Panchayat have been killed by the stranger so far. Three dogs were chopped to death and the rest poisoned. The dogs were reportedly hacked by the person after throwing stones at their master's house. The person even knocked hard on the windows.
The police have registered a case under section 428 of the Indian Penal Code (IPC) at the Aroor police station. This section says: Whoever commits mischief by killing, poisoning, maiming or rendering useless any animal or animals of the value of ten rupees or upwards, shall be punished with imprisonment of either description for a term which may extend to two years, or with fine, or with both.
The people of the area don't venture outside their houses in the night. Though, the squads formed by the locals had followed the stranger on two occasions, he could not be apprehended.