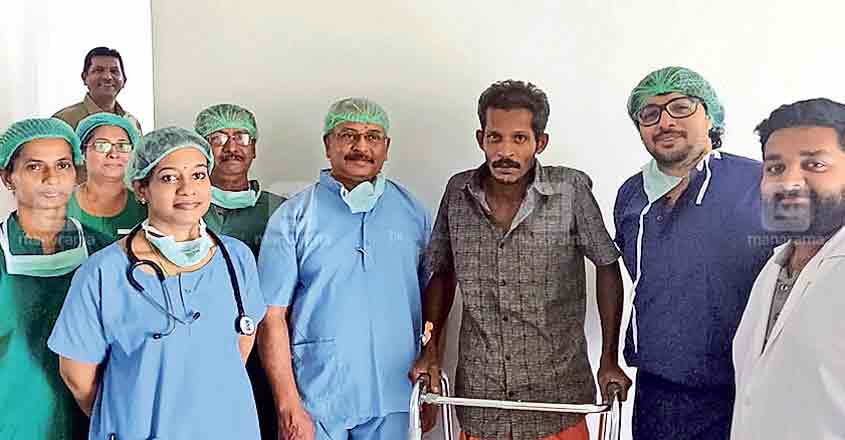 Charummoodu: Thursday, February 20, 2020 will be a day Maneeshkumar would remember throughout his remaining life. Maneeshkumar who is now 41 can walk all by himself after 20 years.
Maneeshkumar who was brought on a stretcher to the St Thomas Mission Hospital, Kattanam could walk out of the hospital before returning to his house on this day. Maneeshkumar of Laxmi Nivas of Perumthottikkal in Konni had met with an accident in Gujarat. His hip and legs were fractured in the accident. Moreover, the accident had also deformed his spinal cord. In a surgery which lasted for over four hours his hips were replaced. The iron rods inserted in both his legs were removed. The surgery was conducted by a team consisting of orthopedic surgeons Dr Jerry Mathew and Dr Suresh Koshi and anesthetist Dr Aswini B Nair.
The doctors have assured Maneeshkumar that he could return to his normal routine within two months. However, Maneeshkumar was worried about his livelihood. He was earlier doing the tyre repairing jobs to sustain his family comprising of wife and three children. However, his health will not allow him to continue this job that requires heavy exertion. Maneeshkumar is hoping that someone will help him find another job that does not require strenuous labour.
Maneeshkumar had almost lost hope of returning to a normal life. It was then that he met Dr Jerry Mathew in a hospital at Konni. It was a turning point in his life.
Doctors had identified that the bones in his body had become weak and brittle. Doctors had also found that it was time to replace his hip and remove the iron rods from his legs. The treatment which lasted for over one and a half years was expensive. An amount of Rs 25,000 was provided from the Chief Minister's Relief Fund for his treatment. Another amount of Rs 45,000 was provided from the funds of the Marthoma Metropolitan and the Orthopedics Department of the St Thomas Mission Hospital. Finally, the surgery was conducted on February 11.