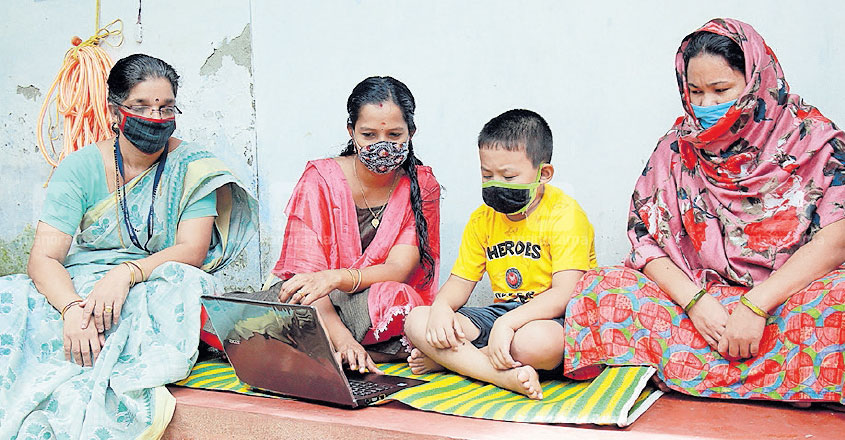 Poochakkal: Many school students have been stranded at places far away from home due to the lockdown imposed in view of the COVID-19 pandemic, leading to disruption of their studies. However, the education of Krishna Bahadur Gardiya from Nepal who was forced to remain in this rural hamlet in Alappuzha district will not be affected as he has joined a local school.
Krishna Bahadur, who is affectionately addressed as 'Unnikkuttan' after a Nepalese character in the classic Malayalam film 'Yodha', had reached Panavally from Nepal in January along with his mother Pushpa as his father Prakash Bahadur Gardiya worked there. However, the mother and son could not return to Nepal as the lockdown came into effect.
Prakash had reached Aluva from Bhingri in Nepal several years ago in search of work. After their wedding, Pushpa too had lived with Prakash in Aluva. However, sometime after Krishna's birth, she returned to Nepal with the child to enable him to study in a school there. Prakash now works as a temporary shed worker in Poochakkal area.
In view of the lockdown, Prakash shifted with his family to a house in Panavally and approached N C Vijayakumar, headmaster of Government UP School, Odampally, seeking admission for Krishna.
As Krishna had completed his third standard in Nepal, he was enrolled in the fourth standard at the Odampally school and soon, the matter was circulated widely on social media. Teacher Shari R Saseendra and Hindi teacher M Mayadevi from the Odampally school reached Krishna's house on Friday to start his online lessons.