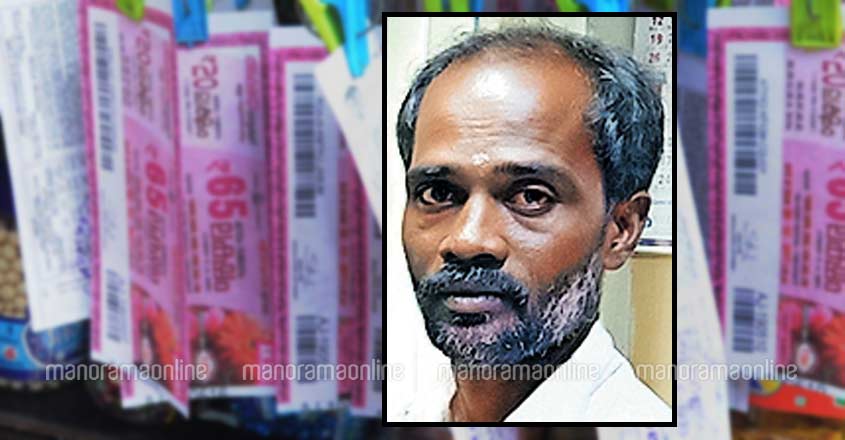 Muvattupuzha: Tamil Nadu native Chellaya never considered himself lucky when most of the customers shrugged off his desperate pleas to buy his lottery tickets, minutes before the draw of Kerala State Vishu Bumper.
An unhappy Chellaya had to return home with two unsold tickets. Finally, when the results were out one of the two tickets bearing the number UB 532395 proved to be the game changer. The lottery ticket vendor from Kotai in Tirunelveli became the winner of Rs 5-crore jackpot of the Kerala State Lottery Department!
Chellaya, who sells lottery tickets at Vazhakkulam here, was initially scared to let the cat out of the bag and kept the news of the stroke of luck to himself.
Though it was known by Thursday evening that the ticket for Vishu Bumper first prize was sold at Vazhakkulam, all were clueless about the lucky owner of the ticket. Only after Chellaya entrusted the ticket to the Vazhakkulam branch of State Bank of India, did even his close friends come to know of the unexpected news. Chellaya, who migrated to Vazhakkulam 10 years ago as hotel worker, stays at a rented house at Kalloorkadu Junction with his wife Sumathy and children Sanjeev and Selva Namitha.
He took to lottery business only a year ago. He purchases the tickets from a lottery agency at Vazhakkulam. So what are his plans with jackpot win? "I wish to build a house and make the future secure for my children," smiles crorepati Chellaya.