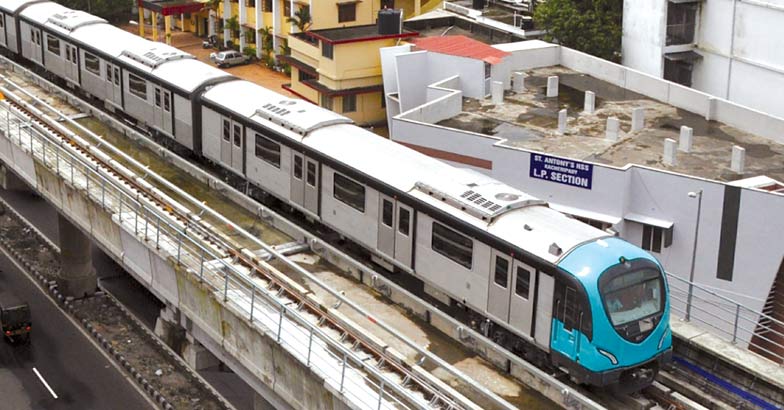 Kochi: The Kerala Government has given administrative sanction to extend the Kochi Metro network from S N Junction to Thrippunithura railway station. The location of the Metro terminal would be the plot adjacent to the railway station where the municipality is planning to build a bus terminal.
The Metro track will reach the terminal from S N Junction via Refinery Road, Milma dairy, across the overbridge and along the right side of the railway track. The Metro track will be laid along the road to the new bus stand.
This alignment would enable land acquisition without much expense. About 2.75 acres would have to be acquired.
A firm named Seguro Foundations has been entrusted with the task of building a road along the land already acquired. The government had earlier sanctioned an amount of Rs 123 crore for the development of Pettah-S N Junction road.
The entire project is expected to change the face of Thrippunithura by transforming the transport sector in the area as the new bus station, Metro and railway station would be next to each other.
Kochi Metro services are now in full swing from Aluva to Maharaja's College ground. By mid-August, this year, the Metro services will be extended to Thaikkudam. Services could start from Pettah by February next year.
The first phase of the Kochi Metro project will be completed when it reaches Pettah. However, it was earlier decided to extend the services up to S N Junction in Thrippunithura. After the government gave its sanction for the work, the preliminary steps were launched.
The distance from Pettah to S N Junction is 1.2 km and the Metro will have two stations along the stretch. A new bridge will also be constructed at Pettah. The entire cost of the extension would be Rs 359 crore.
The S N Junction-Thrippunithura railway station line and Pettah- S N Junction line of the Metro will be built directly by the Kochi Metro Rail Ltd (KMRL). The Delhi Metro Rail Corporation Limited (DMRC) will supervise the work only from Aluva to Pettah.