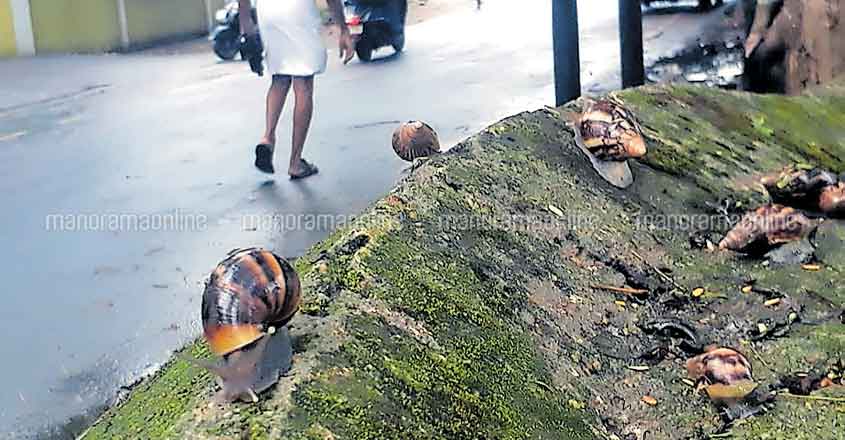 Paravur: With the advent of monsoon season, the highly invasive giant African snails are rearing their heads again at a few places in Kerala's Ernakulam district.
Hundreds of snails could be found on walls and open land after a spell of heavy downpour. They are seen at Peruvaarum, Thonyakavu, Nanthiattukunnam, Poosharippadi, Vazhikulangara and Kedamangalam localities near Paravur town. The snail menace can spread to other places if the rain intensifies.
Snails could be seen sticking on to cots and utensils posing a serious health risk, especially to children.
When the African snails were on a rampage two years ago, the health wing of the corporation had sounded a warning that diseases such as meningitis can spread through these shelled creatures.
The African snails, which are bigger than the normal snails, can destroy agricultural crops, and an injury caused by snail shell can take time to heal. The snails can also adversely affect the cultivation of spinach, ginger, yam, arbi, long beans, ladies finger and bananas. Plantain trees can fall over, tapioca can change colour as snails are decimating standing crops at many places.
The African snails were first found in the Paravur municipal limits 9 years ago. They were initially spotted at Thonyakavu region, and now they are a threat to people residing in 8 other wards.
There is a strong demand to launch organised snail-eradication measures before the situation gets out of control.
Antidote to menace
Though there is a respite from the menace by sprinkling salt or tobacco water over the snails, the efforts to eradicate the snails are yet to achieve desired results.
It has been found tobacco-copper sulphate mixture is the best bet against the shelled gastropod. Snails can be destroyed by sprinkling a mixture of tobacco and copper sulphate. About 25 grams of tobacco should be boiled in one-and-a-half litres of water for 10 minutes or 25 grams of tobacco in 1 litre of water should be kept overnight. 60 grams of copper sulphate should be mixed in 1 litre of water. Both the solutions should be mixed properly and sprinkled on the snails.
Cabbage leaves and tapioca sticks could be kept over moist gunny bags to attract the snails and later they could be destroyed.
Dos and don'ts

Don't touch snails without proper gloves.

Stay away from snail secretions.
Vegetables should be cleaned properly to wash away snails' secretions and excretions.
Boil water before drinking as snails could be found on the inner walls of the well.
African snails are not edible.