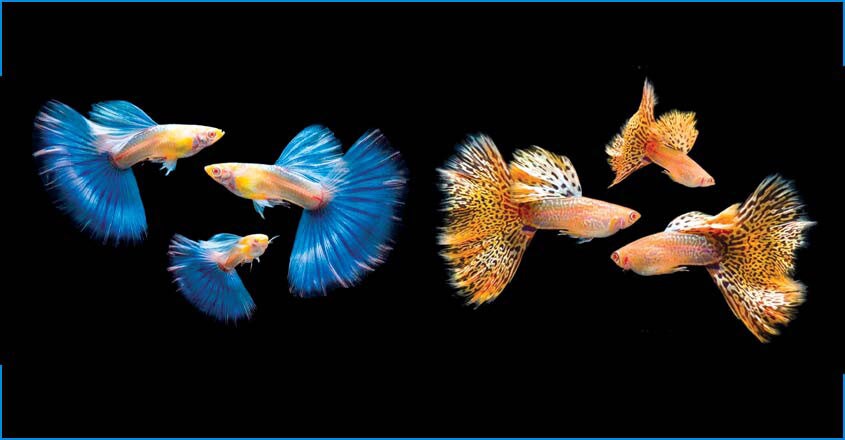 Vypeen: Small tropical fish guppy has fascinated both scientists and children alike. In Kerala, guppy was earlier a fish reared by school kids for fun. Later, its abilities to control mosquitoes were recognised. But now some in the coastal state, realising that guppy is no small fry but a fish that earns millions as foreign exchange for countries like Thailand and Malaysia, are determined to follow that path and have planned major events to promote it.
As a result of their efforts, Vypeen in Ernakulam district will be hosting an international guppy exhibition and India's first national guppy competition under the aegis of the Indian Guppy Club. The date is September 13 and the venue Sahodaran Ayyappan Memorial at Cherayi. Fisheries Minister of Kerala Mercykutty Amma unveiled the poster of the national guppy contest recently.
In the past, guppy (Poecilia reticulata) was known by its pet name 'sari wala' considering the shape of its tail fins and vibrant colours. School students purchased the fish in plastic covers and brought them home.
Later, it was scientifically proved that guppy feed on mosquito larva. This discovery increased the demand for the fish in the pets market. However, Keralites were still ignorant about the real potential of guppy which is also known as millionfish and rainbow fish.
A star in foreign markets
Kerala subsequently stumbled on the fact that guppy earns significant amounts of foreign exchange for countries like Thailand and Malaysia. Internet research and follow-up measures made people like Saji Cherian of Cherayi an expert in guppy rearing. He and others pursuing the passion have enhanced the chances of Kerala becoming the export hub of guppy in India.
Numerous varieties
But even Siju is clueless about the number of guppy varieties available. "There are at least 100 different types of guppy. Moreover, breeders are introducing several new varieties regularly," he informs.
An oviparous fish, guppy varieties are distinguished by the colour of the tail and body.
The 'stars' among the guppies are HB Blue, HB White, Albino Full Red, Moscow Blue, Blue Grass, Red Lace and Blue Topaz. More than the varieties, how they are bred and reared counts more in competitions, says Siju.
Kerala ideal clime
Earlier, school children were the 'brand ambassadors' of guppy. But now youngsters attending college have taken over the role. They not only buy and rear the fish but some also resort to breeding.
"The conditions in Kerala are most suitable for breeding guppy. Even though they are a tiny fish, space is important for guppy. Moreover, Kerala's climate and the availability of water here are an advantage," points out Siju.
Incidentally, Siju has won several awards in guppy contests, including that of the second runner-up at the Guppy Challenge hosted by Malaysia.
Apart from Siju, other office-bearers of Guppy Club are P V Suvin, Siddique Jalal, K B Nijas and Dr R G Sooryakanth.