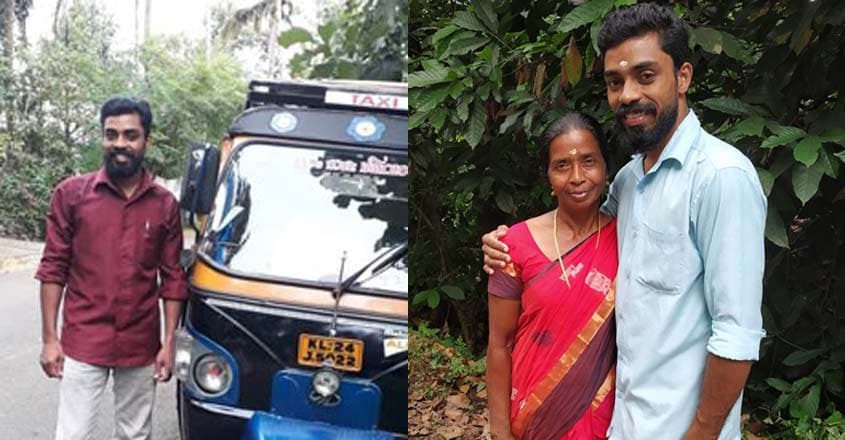 Muvattupuzha: Inspiring stories often emerge from the campuses of our educational institutions. One such tale is of Dr K P Ajith, the first PhD holder of Thunchathu Ezhuthachan Malayalam University, Tirur.
Ajith earns a living by driving an autorickshaw. Head to the autorickshaw stand at Anchalpetty, Muvattupuzha, in Ernakulam district and you may get an opportunity to travel in the vehicle driven by him.
In fact, Ajith had led a difficult life since a young age and the auto had supported him during the worst days. He had bought the auto with the money he saved together carrying rock at quarries, selling fish in the market and peddling peanuts at festival grounds. This was after he failed in the Class 10 final exams. But the auto had helped him achieve his dream education. Now the doctorate holder is again at the auto stand looking for passengers, to buy a new laptop in place of the one he had lost.
A faltering start
"If you have a dream, all you need is a deep desire to achieve it and everything will fall in place," attests Ajith who belongs to Puthenmadom, Kakkattoor. He, in fact, speaks from his life experiences.
While he was a small boy, Ajith's father left his mother Santha. Ajith then lived with his mother and grandmother Chinnamma. The only income for the family was the paltry wages they earned working as labourers on pineapple farms. From Class 8, Ajith joined his mother at the pineapple farm as well as worked as a tapper in rubber plantations, did painting jobs and helped at a catering firm.
All these tasks affected his studies and he failed in the Class 10 final exams which he attempted while a regular student at Varappetty NSS Higher Secondary School.
Ajith was then forced to work in rock quarries. During free time, he helped fish sellers in the market to earn an extra income. Meanwhile, Ajith felt a deep urge to continue his studies. He picked up his books again and cleared the Class 10 final exam under the SAY (Say a Year) scheme.
The youngster subsequently joined Sivamkunnu Government Higher Secondary School for his Plus-Two course. His stream was Humanities, which he passed with 64% marks. Ajith had by now bought an autorickshaw with his savings and used the money earned from driving it to pursue higher studies. He soon joined St Peter's College, Kolenchery, for his degree course. After plying passengers during the night hours, Ajith attended regular classes in the day.
Ajith secured his degree with good marks and joined the Sree Narayana BEd College at Muvattupuzha. He also passed the BEd exam, securing 75% marks.
Theatre and songs
Even while leading a hand-to-mouth existence, Ajith enjoyed watching dramas. He often picked up the job of a peanut seller at venues of theatre performances which enabled him to watch the dramas along with earning an income. The topic of his PhD thesis was also related to drama, 'Popular culture and drama songs'.
Ajith often wondered why old Malayalam drama songs were still popular among Keralites while the songs in new theatre productions failed to make an impact. When he applied for joining the first MA batch of Malayalam University, the topic for his research had already taken a concrete shape. Ajith then earned this postgraduation in Literary Writing and enrolled for his PhD. His guide for the research project was Dr T Anitha Kumari.
Four students of the first research batch, including Ajith, submitted their theses this year. Ajith made history becoming the first person to secure a PhD from the institution as the Malayalam University pickeed up his thesis first for scrutiny.
Alongside, Ajith also passed the National Eligibility Test and is about to enter the teaching profession. "I will also set apart a portion of my income for the education of poor students," he says.