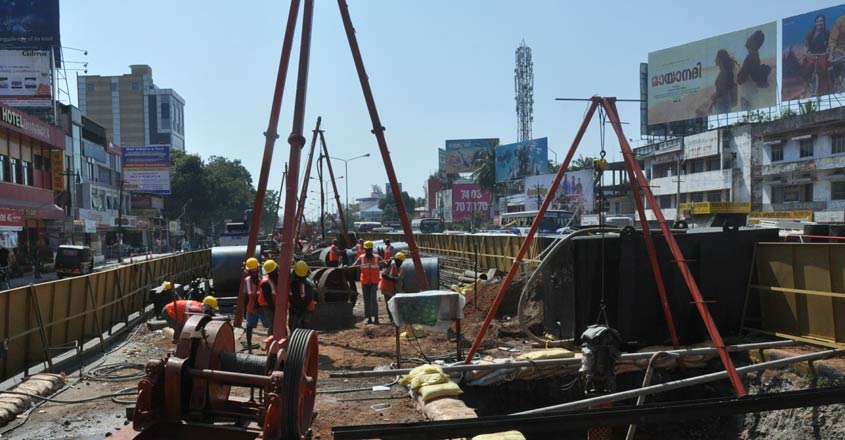 Kochi: VK Shylamol, assistant executive engineer who filed a report on the shoddy work being done on the Vytilla flyover and handed it over to the Public Works Department Vigilence officer, is now suspended from work.
Her suspension letter details that by handing over the report to PWD vigillence deputy chief engineer, she has violated many protocols.
An independent agency that carried out a third-phase test has nulled the report saying that they have verified the operations and that there are no irregularities found so far.
The report presented by Shylamol alleges that Sreedhanya Constructions, who was given the contract for the overbridge construction, were not using enough water for concrete curing. The quality of the concrete in deck slab and girder were found to be unsatisfactory.
Though the PWD wing has instructed the company to rectify the faults, the firm is yet to reply. The report also pointed out that senior officers, including the executive engineer, did not turn up at the site to check the concrete mixture or supervising the works.
Only about 70 per cent of the construction has been completed at Vyttila. Concreting works on deck slab are progressing.
Public Works Minister G Sudhakaran has claimed that the government has not received any report that pointed out at faults in the construction of the Vytilla overbridge.
"There is no cause for concern over Vytilla overbridge. If there are any faults, experts would check and rectify them. Only if such a report is received can action be taken. Till now, no such report has been received. The government would seriously check if any lapses were made at the official-level," he said.
The construction company, Sreedhanya Constructions, has vouched for the quality of the concrete used for building the Vytilla flyover. It dismissed rumours that the company did not check the samples.
The company blamed the tussle for power within the PWD officials that led to the current crisis. The firm further said that it has not stopped construction works.
With this, two road bridges in the heart of Kerala's commercial capital, Kochi now lies mired in row over corruption charges and poor quality of construction, leavning many commuters who had for long been waiting for their completion, frustrated.