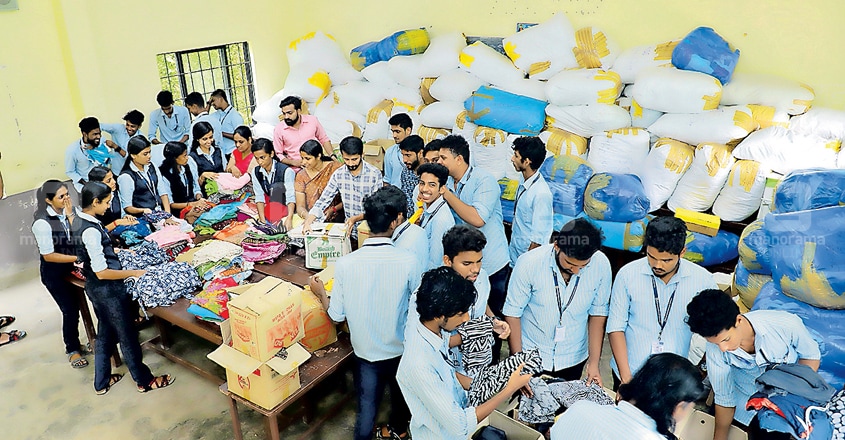 Ernakulam: Three students and one teacher of Baselios Poulose Second College Arts and Science College at Piramadom in Kerala's Ernakulam district have headed to Dibrugarh in Assam on board the Vivek Express on Friday. They would be taking with them a bogie full of essential items for the north-eastern state that was marooned by the recent floods.
The National Service Scheme (NSS) of the college spearheaded the initiative. The students were also fully supported by the NSS state and regional directorates.
It was not just the students and teachers who contributed to the good cause. Around 70 schools in the Koothatukulam, Piravam, Muvattupuzha, Kolenchery, Mulanthuruthy and Ernakulam regions also actively chipped in.
Principal Tintu Mathew, NSS programme officers Jobin George, Angel Paulose, departmental heads O V Sinoj, and Sanju P Joy were in the forefront of creating awareness about the initiative. College students directly went to school directly collect articles such as clothes, napkins, candles, paste and detergent. They collected a whopping four tonnes of articles that filled up the college NSS unit's office. The articles were segregated and packed accordingly. Hundreds of students had to be engaged in the packing process for more than a week.
They found time to pack the items in between classes, and in the morning and evening hours.
It was almost a year ago that Kerala suffered the worst calamity in a century. The scary memories of the August 2018 floods act as a reminder for the students about the need to rush help to Assam and its people. However, the students and teachers ensured that their studies were not affected due to this. They worked even on holidays.
Programme officer Jobin George, volunteer secretary Ebin Eldose, volunteers Rajas Dinamani and Abhishek Anoop have gone to flood-hit areas.
The NSS Kerala directorate has contacted its counterpart in Assam over the students' trip.