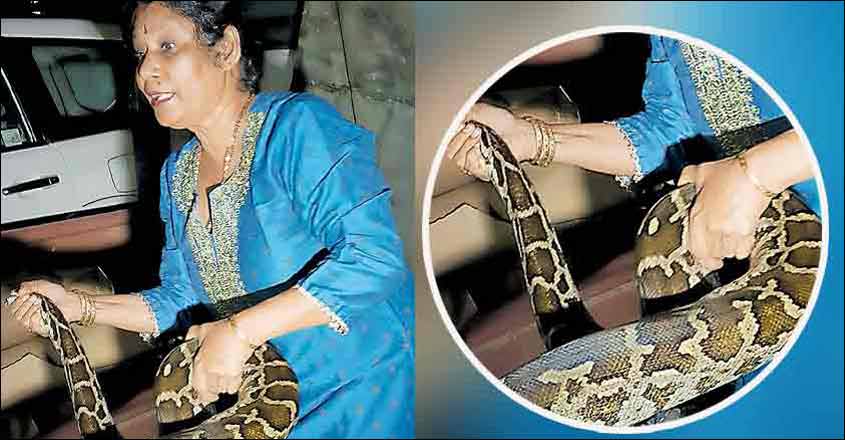 Kochi: Residents of Kochi are now literally jostling with snakes for space in their houses, offices, roads, washrooms and even footwear.
The number of cases where snakes are spotted is on the rise in the city. Recently, snakes were found near Kaloor Nehru Stadium and a private company at Panampilly Nagar. A python was caught from a transformer at Vyttila. There were instances of snakes being found in flats, pooja rooms, sofas, washrooms and from shoes lying in the verandas.
Statistics from the special forest protection force (SFPF) that works under the Malayatoor forest division reveal an increase in the number of snakes caught from residential areas. If five king cobras were caught in 2017, the number rose to six in 2018. This year, eight king cobras have been caught until September 30. In 2017, 17 cobras and nine vipers were caught, while in 2018 the figures stood at 48 and 23, and 34 and 28 in 2019. The number of pythons spotted is also on the rise.
The SFPF catches wild animals and reptiles, including snakes, that venture into residential areas and releases them safely in the forest. It also seeks the help of snake catchers from Aluva and Ernakulam. The snakes are caught, put in a sack and released at different areas of the forests.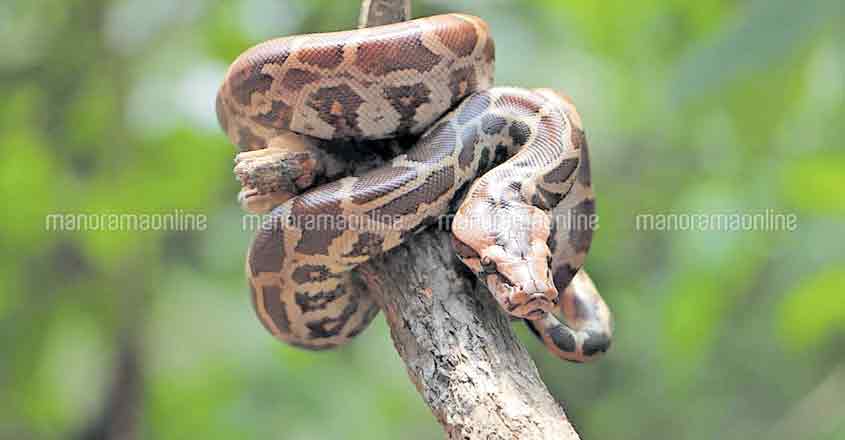 Know the snakes

According to J B Sabu, section forest officer, special forest protection force, Kodanad, pythons and vipers are commonly found snake species in cities. "Special care needs to be taken while catching a viper. Vipers can rotate their heads pretty fast and this increases chances of getting bitten. Vipers have been caught from Vyttila and Kadavanthra several times," he said.

"Among the commonly seen snakes in the countryside, only three or four types are venomous. Going by the looks, the venomous krait is similar to nonvenomous wolf snake. The wolf snake has fewer bands but they are wider. The head is triangular in shape. The krait, at the same time, has more bands, which are narrower. The head is thumb-shaped."
"It is easy to mistake a viper for a python. The spots on the body of a viper are in a straight line and at a precise gap. However, the spots on the python do not have a specific pattern. These similarities have been given to non-venomous snakes by nature for their safety. However, before human beings, this becomes a problem. Never try to catch a snake without properly identifying it."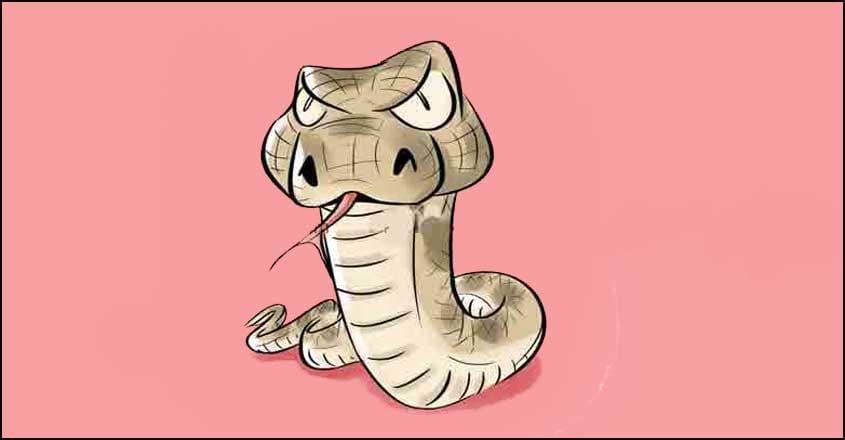 Don't mess with Vidhya

"Releasing the snake into the wild gives tremendous satisfaction," says Vidhya Raju. Most people in Kochi know Vidhya; because it is Vidhya whom they contact first when they see snakes in their houses.

A nature lover and bird watcher, Vidhya first caught a snake in 2002 in Goa. It was as part of nature conservation activities, she started catching the reptiles. Since then, she has caught several venomous and nonvenomous snakes. If pythons and venomous snakes are caught, they will be handed over to the forest department. Rat snakes and water snakes will be released in nearby areas itself.
Her husband AVS Raju, who was a commodore in Indian Navy, had caught a lot of snakes from the Katari Bagh area when he was working at Kochi naval base. Even if it is in the middle of the night, Vidhya would come with her husband and rescue the snake. She is equipped with a long snake rescue bag and snake tongs.
"I have even got three phone calls (for snake rescue) a day. At least one phone call in three days is a given. Pythons and vipers are usually seen in the residential areas in the city. I have gone outside the corporation limits too to catch snakes. We go out even at midnight. My husband comes along as a support," she says.
Why the rise

Areas that are covered in bushes and swamps are the safe havens for snakes. With the rise in the dumping of food waste, the number of rats and rodents too have gone up, thus attracting more snakes that prey on them.

The forest department estimates that the number of cobras has gone up in the Paravoor area after the 2018 floods. Vipers have increased with the arrival of sand and stones from Tamil Nadu for construction purpose. 

Pythons are flourishing since their eggs have no preys in the residential areas.

Safety warnings

Snakes can enter flats and houses through pipes that open at swamps or canals. Use a net on these pipes.

Heaps of discarded wooden articles and logs and old tiles are a big attraction for snakes.
Check the shoes that are kept in the verandas thoroughly before wearing them.
Don't panic if you spot a snake. The king cobra can sense a scared opponent and can attack.
Do not shout and annoy a snake. Wait and monitor till help arrives.
Do not kill rat snakes, water snakes and other non-venomous snakes.
The special forest protection force phone number to call if you spot a snake: 8547604222