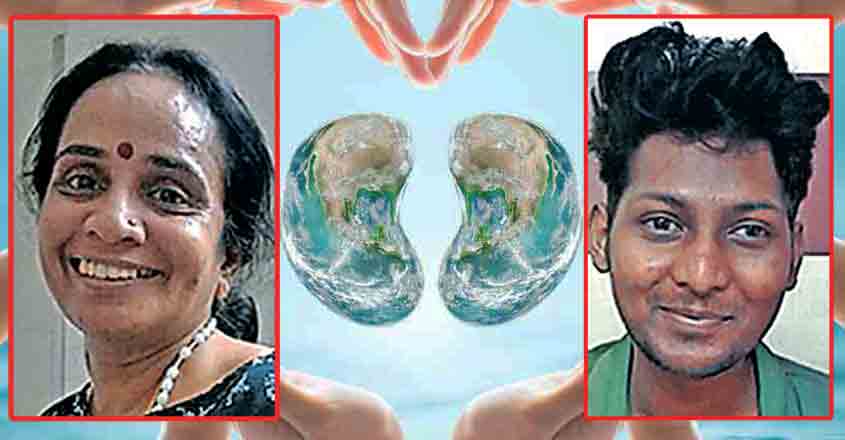 Kochi: At times perfect strangers may prove critical to one's life and death. Kidney donation by strangers is not unheard of, but one that happened at a hospital here is touching and sets a model for others. A housewife and mother of two came forward to offer a lifeline to a youth who needed a kidney transplant to stay alive.
Seetha (47) donated one of her kidneys to Jayakrishnan, an 18-year-old poor orphan from Palakkad. Remarkably, both are not relatives and were not known to each other before the search for the organ commenced.
Jayakrishnan had lost his parents at a young age and was brought up by his grandmother. Belonging to a poor Dalit family, Jayakrishnan had lost hope when he was diagnosed with a debilitating renal condition.
However, Daya Charitable Trust, which is based at Peringottukurissi in Palakkad, extended a helping hand. The only way out was a kidney transplantation. But the search for a suitable organ proved futile. That was when Seetha, who was an admin panel member of the trust, came forward to donate her kidney.
Tests proved that her organ would suit Jayakrishnan.
Ahead of the transplant, Seetha was admitted to the Medical Trust Hospital, Ernakulam, on December 8 which happened to be her 23rd wedding anniversary. Two days later the operation was held and on December 12, she was shifted to the room.
Though several people tried to dissuade Seetha, she did not back out. She was supported by her husband Dileep and children Kashmira and Kaveri.
Dileep flew down from a Gulf country where he works to sign the consent form.
Daya Charitable Trust raised funds from the public for the operation. "We spent nearly Rs 10 lakh for the operation and other hospital expenses. We are also planning to build a house for Jayakrishnan," said the chairman of the trust E B Ramesh.
The couple belongs to Neerikkad in Kottayam district.