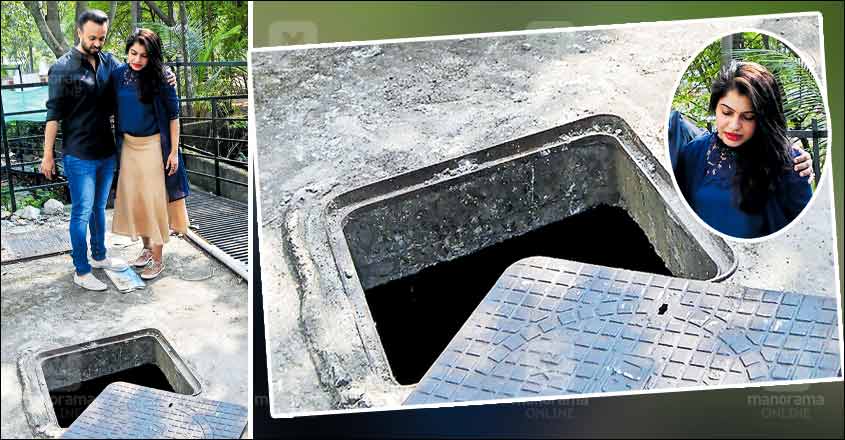 Kochi: Ann Mary Cherian, 33, cannot figure out what happened last Monday morning. Only thing that she is certain is that she had a narrow escape from death after falling into the water tank at the back of the building complex where she runs a shop. She got a new lease of life only because she could hold on to the edge of the water tank after frantically trying to float. Also, Ann would not have lived to tell this story if she had lost her conscience during the fall or if her husband Soji did not hear her loud scream on time.
Ann is the owner of a shop named Jiyan Home Garden that functions from a building complex at Chakkaraparambu, near Edapally. She had opened this venture hardly three months ago.
Usually it is her employee who opens the shop in the morning. Ann and her husband Soji Dixon came to open the shop on Monday as her employee was on leave as she was unwell. As some of the plants for sales were placed at the rear of the shop, Ann went out to water these plants.
Her ordeal started after the manhole grill of the water tank, which was kept slanting on the parapet, fell on her feet. When she tried to remove the grill from her feet she lost balance and fell into the water tank through the opening which was only covered using a cardboard. The large water tank had four or five openings but a few were not covered. (These openings were later covered after Ann met with the accident and a case was registered.)
Crucial moment
Ann did not know swimming. She desperately beat her hand and legs in the water to stay afloat. Luckily, she could get hold of the edge of the water tank. She also caught hold of the grill lying nearby with her other hand. She continued in the position for five minutes screaming for help.
Though her husband Soji came after hearing the scream, he could not lift her. He almost fell into the water tank with his wife while trying to lift her. He sought help from those present at the coffee shop functioning in the same building. It was with their help that he finally lifted Ann from the water tank.
Painful recovery
Ann who felt relieved on her escape did not feel any pain after being lifted out of the water tank. However, when she reached her shop it slowly started to pain. On examination she could find wounds on her hands and legs. She was later taken to a hospital. Hospital authorities who took the matter seriously reported it to the police. Later, Ann along with her husband visited the Palarivattom police station to register a complaint.
She also filed a complaint with the Kochi city police commissioner who promised to take action.
The incident is an eye-opener. Always be cautious if we are around uncovered water tanks or water bodies. All may not be as a lucky as Ann.