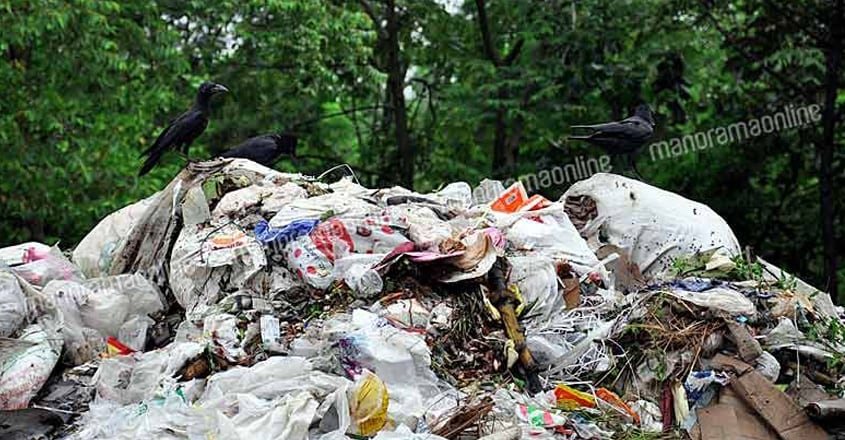 Kochi: Kerala implemented the ban on single-use plastic from January 1. This is expected to bring some relief from the plastic menace. But what about sanitary napkins and diapers?
Municipalities and corporations, especially in Kerala's financial capital Kochi, have stopped collecting such waste.
Authorities have said that such garbage has to be dealt with at home itself. But authorities have no answer on how to process this waste at home.
If the present situation continues, such waste would soon line our roads, soil, and even rivers. This alarming possibility might turn into a reality in the not-so-distant future.
Municipality, corporation says no

It has been over a month since the Thrikakara municipality in the Ernakulam district stopped collecting sanitary napkins and diapers from houses. The Cochin Corporation too said that it would only collect such waste materials if they are cleaned and given.

The Thrikakara municipality said that since blood and human excreta fall under the biomedical category, these cannot be collected. At the same time, the law stipulates that the sanitary waste at homes should not be considered as biomedical waste.
Not knowing what to do with the plastic waste, the public find themselves in a spot. This has mainly put the parents of young children and women in trouble.
Nor has the authorities given any instruction on how to deal with this garbage.
This waste cannot be treated as plastic garbage or food remains. The municipality does not have an incinerator facility to burn biomedical waste.
As per the current laws, flats or housing colonies cannot be given license to install a biomedical incinerator. Thereby shutting out any chances of such waste getting dealt at the domestic level.
These cannot be buried in soil due to their plastic covering. Plus, there is the threat of spreading diseases. There is little clarity on what to do with this growing menace.
What to do?

An incinerator that can scientifically process napkins costs up to Rs 4 lakh. But it is not practical for everyone to have it, people pointed out. Even if diapers are cleaned, municipality staff refuse to take this. Nor is it possible for urban dwellers to cut down on the number of diapers and napkins.

The napkins are manufactured to absorb maximum moisture. Therefore, these cannot be buried in soil as they would not decompose. When it rains, the napkin would absorb the water and expand. Nor can these be set ablaze due to the environmental hazards that are created on burning plastic and biomedical waste.
They are also human beings…

Thrikakara municipality employees said that they have no idea on what to do with a diaper, or napkin garbage.

The Thrikakara municipality was forced to take the decision with even the number of adult diapers on the rise.
"Think about the workers who are forced to deal with diapers that are not cleaned. Aren't they also humans?" authorities asked.
Though instruction was issued on first cleaning the diapers before leaving them with the waste, few people followed it. The municipality was forced to take such a decision after Kudumbashree workers, who collected the waste, constantly complained against such practices.
But it is also not possible to flush out the gel and cotton on the napkins either.
Different types of garbage

The municipality mainly collects two types of garbage – biodegradable food remains and non-biodegradable waste such as plastic.

If the waste contains blood or human excreta, then it has to be treated as biomedical waste. Waste from hospitals falls under this category.
However, if cleaned, then napkins can be included under non-biodegradable waste. As per the law, the sanitary waste from homes should not be considered as biomedical waste. However, authorities refuse to concede to that.
The waste collected by the municipality are: The municipality workers collect segregated waste such as food leftovers and plastic waste, thermocol, shoes, bag, glass, bed, bottles, e-waste, defunct tube light, and CFL bulbs.
Waste on the rise

The amount of waste thrown out by an individual keeps increasing on a daily basis. Earlier, it was 300gm of waste every day. But now it has increased to 500gm per day.

Authorities cannot shy away from the task

But municipalities cannot shy away from the responsibility of collecting such waste from homes, according to M A Baiju, the environmental engineer at the Pollution Control Board. As per the Solid Waste Management (SWM) Rules, 2016, napkin, diaper, condom, and cotton used to wipe blood should be considered as domestic waste.

If such wastes are segregated from other biodegradable garbage, then the municipality cannot say no to collecting them.
Incinerator

Authorities also agree that the need of the hour is getting more incinerators.

"The number of diapers and napkins are increasing in the city. In such a scenario, it is imperative that a biomedical incinerator is installed. The proposal would be made at the next budget and funds allocated," said Pratibha Ansari, chairperson of the health standing committee at the Cochin Corporation.
Will take if cleaned: Cochin Corporation

The Cochin Corporation decided against collecting diapers and sanitary napkins after frequent fire at the Brahmapuram plant. However, after the resident associations complained against this, the corporation shifted its stance and said that cleaned diapers and napkins would be taken. But only after the gel and cotton are removed, and the napkin is made a non-biodegradable waste, that it would be taken.