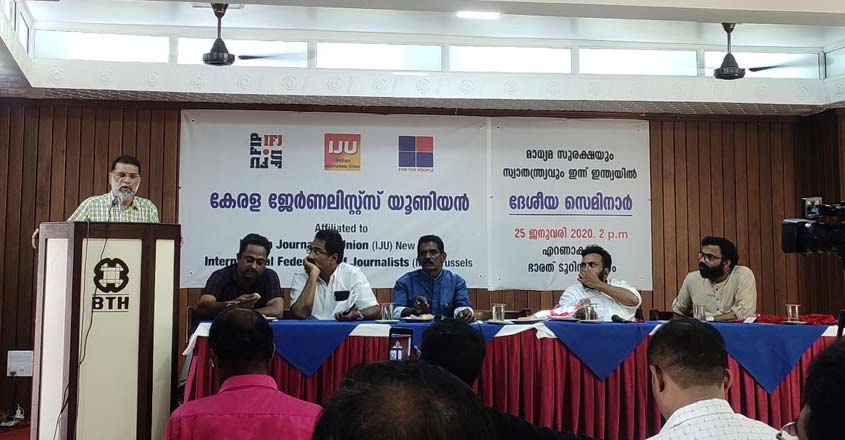 Kochi: The suspension of internet services in Jammu and Kashmir region following the abrogation of Article 370 and 35A has affected the functioning of media as well as the people's right to know, according to a panel appointed by the Press Council of India (PCI).
The sub-committee on working conditions for media in the Jammu and Kashmir after the restrictions has prepared its interim report after visiting various government officers, media houses and journalists in Jammu from December 9 to 12.
The findings of the panel were presented by senior journalist Balwinder Singh Jammu, who is the co-convenor of the committee, at a media seminar here on Saturday. The seminar was organised by the Kerala Journalists' Union.
Addressing the gathering, Balwinder Singh said journalists have a responsibility to strengthen democracy in the country.
"The committee believes that there is an urgent need to remove all the existing restrictions and the media in the region. These restrictions are not only affecting working journalists and media houses but also the people's right to know and judge what is right and what is wrong happening in Jammu and Kashmir after abrogation of Article 370 and 35A. It feels that without the removal of restrictions it is impossible for the media to report events from the various parts of the state," Balwinder Singh quoted from the interim report. The panel will submit its final report after visiting Srinagar.
The PCI decided to constitute the sub-committee August 22, 2019.
Low-speed mobile internet was on Saturday restored in Kashmir after being suspended nearly six months ago in the wake of the Centre's decision to revoke Article 370, but the service can only be used to access 301 websites approved by the administration, officials said.
However, mobile phone services were snapped in Kashmir again on Sunday as a precautionary measure for ensuring smooth passage of Republic Day celebrations in the valley.
The restoration of internet services was the latest step towards easing the restrictions in Jammu and Kashmir following the Supreme Court's January 10 ruling asking its administration to review within a week all orders imposing curbs in the Union Territory.
On January 18, the administration restored prepaid mobile services in the Valley and resumed 2G mobile data service on whitelisted websites across the Jammu division.
There was no word yet on resumption of high-speed broadband and leased-line services in the Valley.