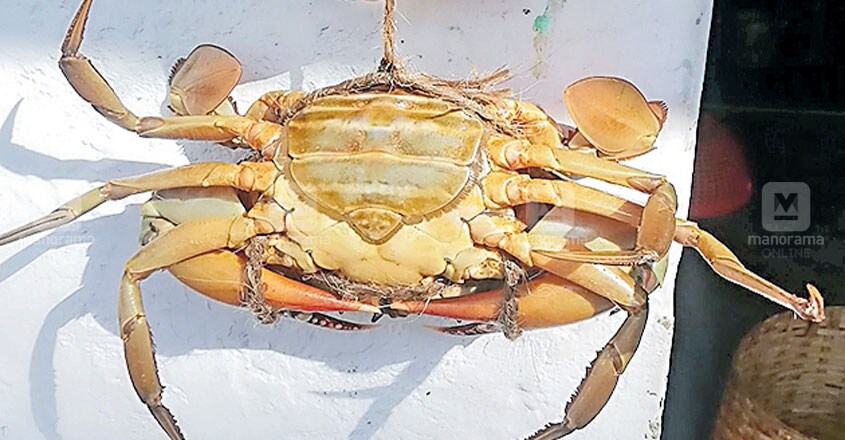 Vypin: The seafood industry in Kerala has been hit with the outbreak of coronavirus in China.
Traders who procure Red Female Variety (RF) of crab which is very popular in China have stopped collecting them. Following this, this variety of crab has piled up in the local procurement centres.
Traders are also not showing interest in sourcing other varieties of crab which have demand in countries like Singapore and Malaysia. This may impact on the livelihood of farmers who commercially cultivate crabs and also small traders who procure crabs for exporters.
Though other varieties of crab are being exported to China from other parts of India, the RF variety, named locally as Chuvappukalan, is very popular in that country. While other crab types are used mainly as food, RF is used mostly for breeding. As these crabs produced a high number of eggs, they can produce large quantities of baby crabs.
Comparatively, mud crabs are more popular in Singapore and Malaysia as they have more meat content. Though these Southeast Asian countries have not reported major cases of coronavirus, wholesalers are not procuring these crabs too for export there as they expect trade curbs as a precautionary measure by authorities. (Unlike other seafood varieties, crabs are exported live; hence chances of restrictions and stringent checks are high.)
Traders have informed the farmers of the uncertainty in the export almost two days back. However, they stopped procurement from Saturday.
Traders who have already procured large quantities of crabs and shrimps from fishermen and those engaged in the commercial farming of these seafood varieties are also facing the heat. They are at a loss as to what to do with the stock.
Prices plunge

As chances of export of RF crab is dim, they are being dumped in local markets, pushing down the prices.

Crab prices have also declined owing to the uncertainty in the market. The latest crisis coincided with the surge in the price of crabs of late.
The price of RF crab had stood at Rs 1,200 per kilogram and that of mud crab at Rs 2,200 per kg before the crisis. Currently, they are sold much lower than these rates.