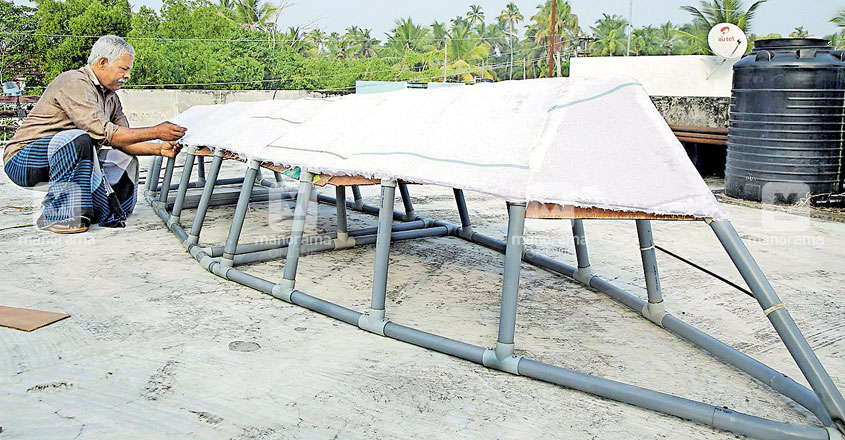 Vypeen: Ambrose of Edavanakkad in Kochi owns a car and a bike but he learnt a valuable lesson during the severe floods in Kerala over the last couple of years - only a boat can save your life during such natural disasters.
When this resident of Karanathu House, Aniyil made enquiries, he learnt that small boats made of wood were not readily available. Moreover, they cost a fortune. Similarly, steel boats too were priced high. Another drawback of owning a wooden or steel boat was that regular maintenance had to be carried out.
This made Ambrose thinking. In the habit of creating items of regular uses using imaginative methods, he considered designing a boat with easily available materials. With his son Anoop's encouragement, Ambrose set out to build his own boat with 30 m of PVC pipes, 20 bath towels, 750 ml of gum, 12 kg PUF form and some plywood pieces. Ambrose's boat can comfortably seat four persons. Visitors to Ambrose's house can now examine the boat as well as enjoy a ride in the canal behind the house.
Before making the four-seater boat, Ambrose had built a two-seater. When that turned out to be a success, he created the bigger one. Ambrose used PVC pipes of 1.25-inch size to build the frame of the boat and strengthened it with screws and gum. As the shape of the boat is crucial to ensure safety, the towels were pasted on the frame to provide a smooth flow of water around the vessel. Over this, plywood pieces were attached to increase strength. PUF form, a chemical substance resembling sponge and is seen inside lifebuoys, was filled to complete the boat structure. Over all this, fibre coating was also done.
The trial run of the four-seater boat too was a success, said Ambrose. As PUF form always floats in water, the boat will not sink easily, according to him. Even if the boat capsizes, at least eight persons can float holding on to the boat till rescue teams arrive.
Ambrose completed the work on the boat in 25 days and spent around Rs 50,000 on it. Apart from rescue missions during floods, the boat cane utilized for tourism and fishing purposes also, said Ambrose. His contact number is 9895686509.