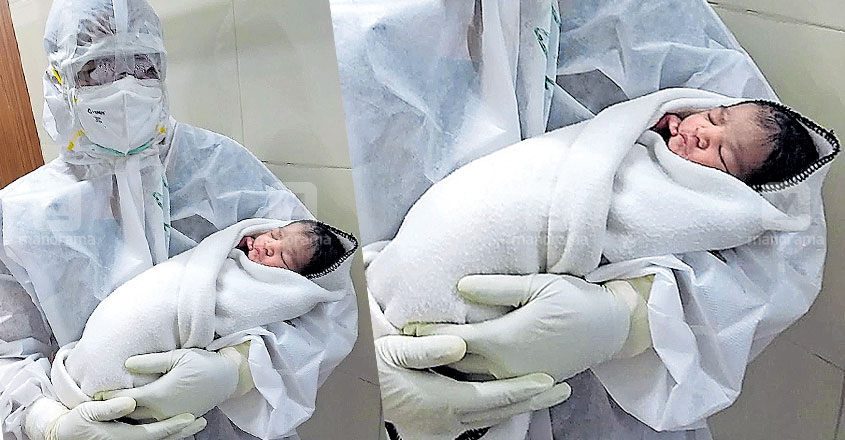 Kalamassery: A Keralite woman, who returned to her home state from Dammam in Saudi Arabia amid the COVID-19 pandemic, gave birth to a girl at the Kalamassery Medical College Hospital in Ernakulam.
A native of Punnala in Kollam, Shahina had arrived in Kochi on Tuesday night. While undergoing medical checks at the Kochi airport, Shahina complained of uneasiness and was rushed to the hospital. She delivered the baby girl through C-section.
Shahina had taken the Dammam-Kochi special flight, part of the Vande Bharat Mission to bring back the Indian nationals from abroad amid the pandemic. She was accompanied by her sons, aged five and three.
Shahina's husband Kabir, an electrical contractor in Dammam, said that the family were mentally distressed. Kabir could not accompany his wife for the journey due to work commitments. Kabir plan to return once the COVID-19 fears are abated.
Shahina's regular check-ups were held at a private hospital in Dammam.
Some complications developed in the fourth month of pregnancy. The family decided to have the delivery in Kerala, as per the advice of the doctor in Dammam. The expenses for C-section in Dammam was another reason that prompted the family to take the decision.
Kabir has not even seen his daughter over the mobile phone due to the COVID-19 regulations at the hospital.
The family plan to name the little girl as Hesa Abeeha Kabir. She will be called Ayesha at home.
Dr Radha led the surgery along with Dr Anju Vishwanath and Dr Anil Kumar.
Both the mother and children tested negative for COVID-19.
Shahina is the second woman to have given birth in the district after returning from abroad. Thiruvalla native Soniya Jacob had given birth to a baby boy after returning from Malaysia on board the Indian Navy ship the other day.