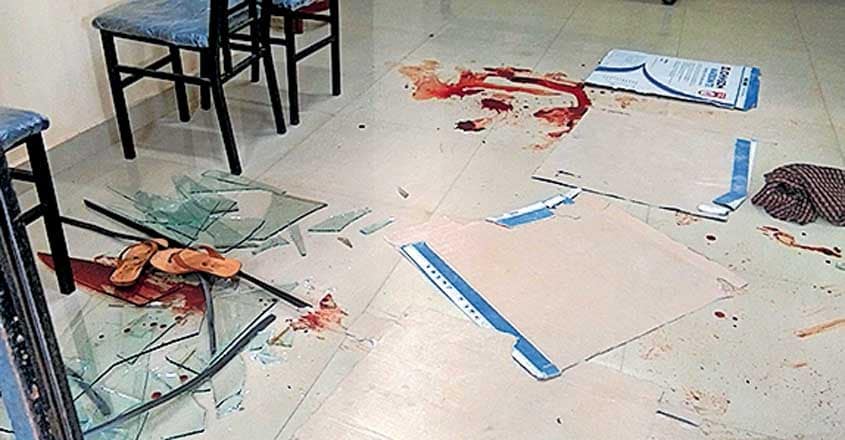 Perumbavoor: The kin of a woman, who died after crashing into a glass door of a bank at Perumbavoor in Ernakulam district, have said that they will seek a probe into the incident.
Beena Noby, 46, of Koovappady in the district, died after a large splinter pierced her abdomen as she crashed into the glass door on Monday.
Allegations have been raised that low-quality glass was used for the door. If thickened glass was used, it would not have shattered when Beena collided into it.
The relatives said that the laxity from the part of the Bank of Baroda's Perumbavoor branch in using the low-quality glass door should be investigated.
Toughened glass needed
A seven-feet glass door at the bank did not have a proper sticker on it either. The use of such plain glass instead of double-layered glass or tempered glass increases the risk of accidents.
An expert in the field, I Siddique Babu, said that annealed glass with a thickness 4mm or 6mm is likely to have been used at the bank.
"However, such glass should not be used. These will break when hit hard. Toughened, safety laminated glass should be used for doors, windows, walls, and platforms. Accidents can be avoided by using toughened glass with 12mm thickness or safety laminated glass with 10mm thickness for doors. Even if this glass breaks, it would only collapse into granules," said Siddique, who has been working in the sector for the past 20 years.
Delay in taking to hospital?
Allegations have also been raised that there was a delay in taking the woman to the hospital. Only 10 minutes after the accident, the woman was taken to the hospital which was just 200 metres away from the bank.
The CCTV visuals clearly show that Beena was taken out of the bank only five minutes after the accident.
Bank of Baroda regional manager Babu Ravi Shankar termed the incident as unfortunate and said that a probe would be held. The allegation of low-quality glass will also be checked.
However, he denied any delay in taking Beena to the hospital. Dismissing such allegations as baseless, the senior official said that she was taken to the hospital in 5 minutes after the incident.