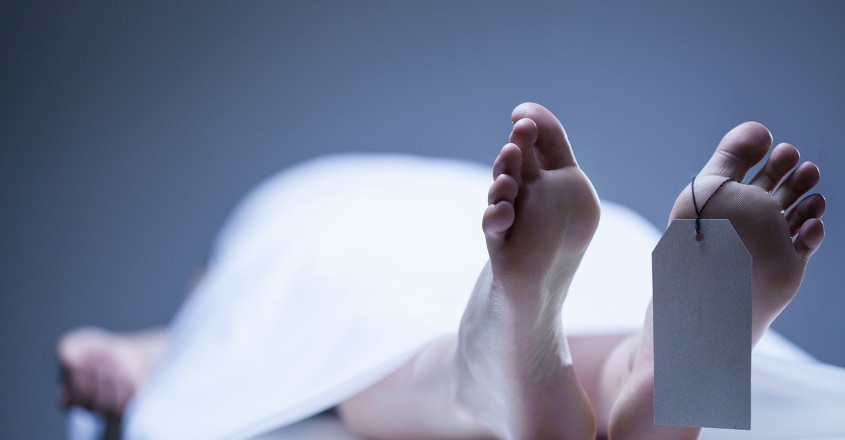 Aluva: Reports of people coming back to life even after they were assumed dead are not unheard of though similar news occasionally bewilders and amuses us. In a curious incident reported from here in Kerala's Ernakulam district, a man declared dead by the cops was found having signs of life thanks to a police photographer who noticed some movement in the 'body' while clicking snaps as the inquest procedures were being carried out.
The 'dead' man belongs to Palakkad and works as a driver in a bottled water plant here.
His assumed death happened at a house at Anakkuzhy, Edathala. He has been staying on rent in a room attached to this house. The house owner became suspicious after the room remained locked from the inside for two days. The landlord knocked on the door several times but there was no response. Finally, he alerted the neighbours and broke open the door. Shockingly, the tenant was found lying on the cot with his head dangling from one side. Moreover, the portion of the cot where the man's head was resting was found broken. Everybody thought that the man was indeed dead.
The alarmed house owner called the police and they confirmed the tenant's death. A 'mahazar' report was prepared and the police brought a photographer to record the scene as part of the inquest.
While turning the body over its back for taking pictures, the photographer felt that the man had some life left in him. The police had brought an ambulance to take the mortal remains to the mortuary at District Hospital, but the man was now shifted to a private hospital, where he regained consciousness after first aid.
However, on learning that cashless insurance facility was not available at the private hospital, the man left the place voluntarily after signing the required papers. He told the doctor at the Forensic section that he would be seeking treatment at a hospital in Thrikkakkara but did not go there and is now missing!
The police now presume that the man had lost consciousness after an excessive drinking bout.