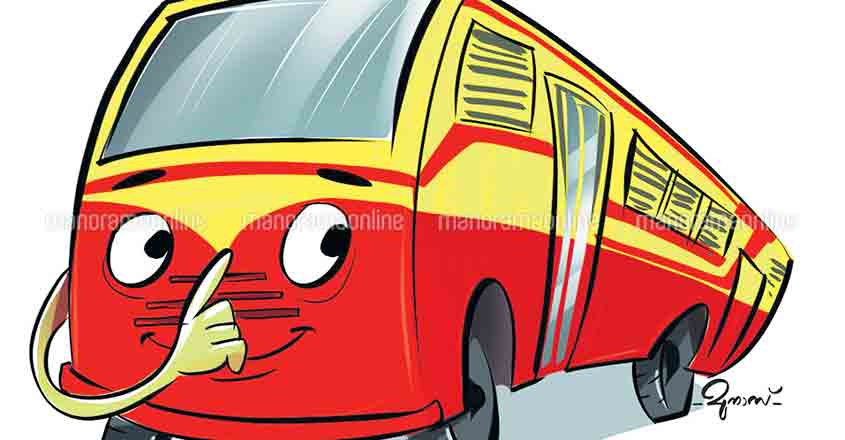 Cheruthoni: A KSRTC bus that made a reputation as a matchmaker is back in action. As many as seven ticket collectors who worked on the Munnar-Kuyilimala bus at various points found their life partners from among passengers before the service was called off due to a mass retrenchment of temporary staff at the state-owned corporation.
The corporation started service from Munnar to Kuyilimala, where the Idukki district collector's office is situated, in 2002. Many of the passengers, it turned out, bought a ride to a happy married life. The people in the area, who fondly called the bus 'Kalyana Vandi (Wedding Vehicle)', were left heartbroken when the corporation suspended the service in December.
The corporation was told by the Kerala High Court to sack 3,861 empanelled conductors across the state and fill the vacancies from candidates chosen by the Kerala Public Service Commission. As many as 41 conductors lost their jobs in the Munnar depot, responsible for the Kuyilimala bus. Only seven of them were replaced by the public recruiter.
The bus resumed service last week, evoking memories of the romantic past. The first couple who owe their alliance to the bus are Siji and Raju, a resident of Moovattupuzha who was appointed as a conductor on the bus. Siji, a student of the Pavanathma College at Murikkasseri, was a regular passenger. They saw each other for a while before getting married.
The pattern was repeated when Unmesh from North Paravur went to work on the route as a conductor. He was drawn towards Chitra, who boarded the bus every working day from her house at Chinnar to her college at Adimali. They too got married later.
The romances did not always have a smooth ride. When Shameera, an employee of the farmers' welfare centre at Thadiyambadi, was proposed by conductor Rajesh, the news raised hackles. Rajesh and Shameera belonged to different communities and the families were opposed to an alliance. The couple withstood the pressure and opted for a civil marriage in January 2012.
Sijomon and Reshma too faced opposition from their folks. The bus conductor noticed the girl who always bought tickets for all her 10 friends. He started chatting up the leader of the college students and eventually fell for her. They got married after four years of romancing each other.
Sreejith from Murikkasseri also met his future wife while on duty on the bus. Athira was a regular passenger to Adimali. Sreejith, Rajesh and Sijomon no longer work for the KSRTC. They were among the empanelled conductors who were fired after the court order despite putting in 11 years of service.