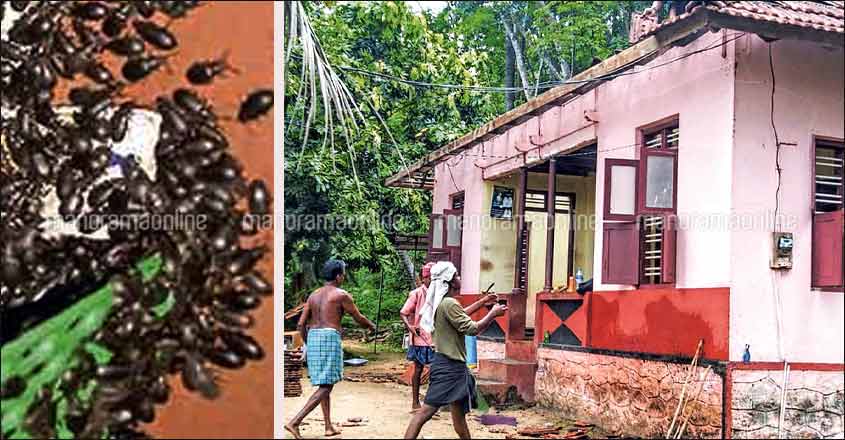 Thodupuzha: Mupli beetles have become a menace in a few parts of rural Kerala. Hordes of Mupli beetles which became a headache for a family at Purappuzha here in Kerala's Ernakulam district forced the inhabitants to take apart the entire tiled roof of their house.
It was on April 11 that swarms of the beetle that invaded the Vadasseril House of one John and set up a colony there. Soon these creepy-crawlies began to torment the family. Lakhs of beetles covered the roof and walls in just one day. John's wife Lissy (53) soon developed breathing problems and cough. When she sought treatment at a private hospital in Thodupuzha, Lissy was told by the doctor there that she was suffering from allergy caused by the beetle.
The stench of the beetles inside the house was unbearable and Lissy's condition worsened, John said.
The family, comprising John, Lissy, parents and two sons, was forced to shift to the houses of some relatives nearby.
Meanwhile, John tried several methods to remove the pests, but all of them failed. He then approached the Karinkunnam police station and Purappuzha panchayat authorities. The police reached the spot but they too could not suggest a way out.
Finally, it was decided to demolish the entire roof of the house. Initially, the tiles and wooden supports were taken down. Then the multitude of beetles that were sticking on the tiles and walls were removed and buried.
John is now planning to install a steel framework over his house and fix aluminium sheets.
Local people said that Mupli beetles were posing a threat to several other houses also in Purappuzha area.
Trouble in Kottayam too
Last month it was reported that the rural parts of Kottayam district are facing trouble from Mupli beetles. The local residents of Cheruvally, near Ponkunnam in the district, had said then that the beetle problem this time around was much worse compared to the previous years. A family here mulled to leave their house due to the beetle trouble.
Though harmless these beetles are often found settling on food, water and animals. Though they can be destroyed using kerosene, these insects reappear in great numbers at night. People have suffered skin burns due to beetle bites. Their defensive secretions can cause skin burns in humans, and also eye diseases and breathing problems.
The beetles can controlled by using kerosene and petrol, and also by switching off lights inside the house, and lighting up the precincts.
Mupli beetles have a liking for summer and nights. They are found among dry leaves in rubber plantations which abound in Kottayam district. They start multiplying by April and May, and later they take shelter in nearby houses and buildings before the monsoon arrives.
These beetles get their name, Mupli, from a forested place in Kerala's Thrissur district which was infested.