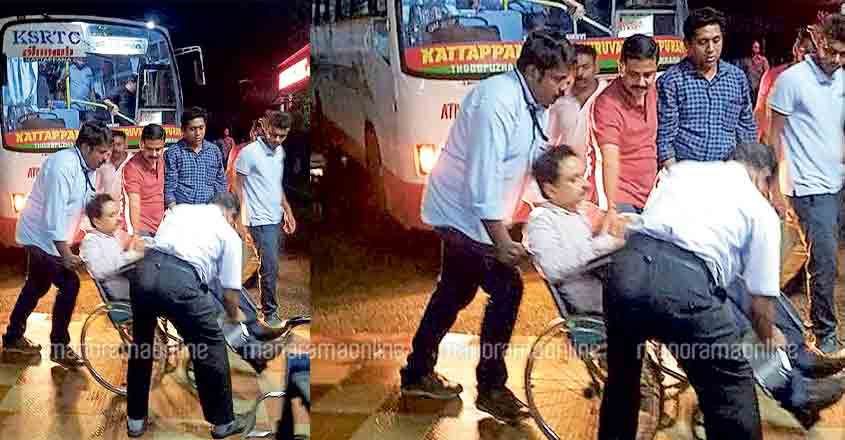 Kattappana: The buses of Kerala State Road Transport Corporation (KSRTC) are notorious for frequent breakdowns and accidents. But in a strange coincidence, the employees of a bus plying on the narrow Main Central Road (MC Road) were in the midst of rescuing accident victims for the second time in two weeks. Their latest intervention being at Adoor in Kerala's Pathanamthitta district at midnight the other day to help a three-member family who was injured after their car rammed a tree.
Dr Faizal Muhammed of the paediatric department at the Holy Cross Hospital at Adoor and his family were involved in the accident on Monday night. They were returning home after visiting Chennai when they were injured.
KJ Mathew and Anoop Zachariah, the driver and conductor of the bus belonging to the Kattappana depot, noticed the car accident as they reached Koorambala, near Adoor, by 1.45 am.  The bus had started its journey from Thiruvananthapuram, close to midnight.
After parking the bus in such a way so that the accident site would be lit up in the night, the crew went towards the spot. They took out the injured -- a doctor, his wife and their daughter -- from the car. Mathew and Zachariah decided to take the injured in the bus itself to a private hospital at Pandalam as no other vehicle was available at the odd hour.  However, the injured were referred to the Medical College Hospital as the condition of the injured were critical. Soon, the bus personnel took the injured to the Pushpagiri Medical College Hospital in Thiruvalla. The bus passengers wholeheartedly backed the initiative of the driver and the conductor to help the accident victims.
Incidentally, the same crew had rescued an autorickshaw driver who was injured after his vehicle toppled at Kodimatha in Kottayam, again on MC Road, on June 28. They had then taken the injured driver to the hospital.