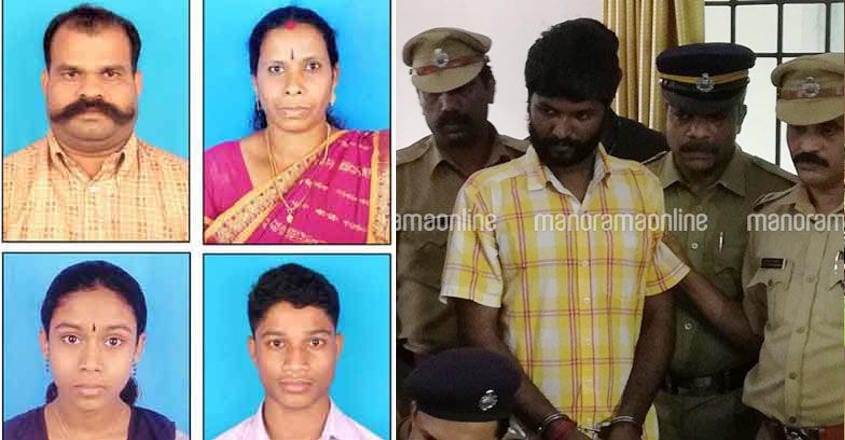 Thodupuzha: The murder of four members of a family at Kambakanam, near here in Kerala's Idukki district, a year ago had shocked the entire state. The police probing the killings have concluded that the motive behind the murders was theft. The charge sheet will be submitted this week.
Initially, it was believed that sorcerer Kanattu Krishnan and three members of his family were murdered by his former aide and a friend to acquire his black magic skills. Around 30 sovereigns of gold were reported missing from the home soon after the crime.
Krishnan (54), wife Susheela (50), children Arsha (21) and Arjun (18) were brutally murdered and buried in a pit near their house. The murders took place on the midnight of July 29, 2018, but came to light only two days later. The victims were found piled on top of another in a dung pit next to their home.
The police said that the charge sheet has been prepared in such a way that there are no loopholes for the accused to escape, and they have received all the results of the forensic tests carried out. The charge sheet will be submitted in Thodupuzha first-class magistrate's court.
All the accused were arrested by the police without much delay, and the investigation team was felicitated with a badge of honour for their excellence.
Four persons have been named as accused in the charge sheet. Adimaly Korangatti native Aneesh, who directly took part in the murders, and Thodupuzha Keerikode native Libish Babu have been named as prime accused.
The other accused include Thodupuzha Chathan Mala native Shyamprasad who provided gloves to the main accused for carrying out the murder and Moovattupuzha Vellurkunnu native Saneesh who helped Aneesh and Libish in pawning the gold stolen from the house of Krishnan.
Aneesh's friend and a sorcerer from Adimaly have not been included in the charge sheet; his name has been added to the list of witnesses.
All the four accused are currently out on bail.