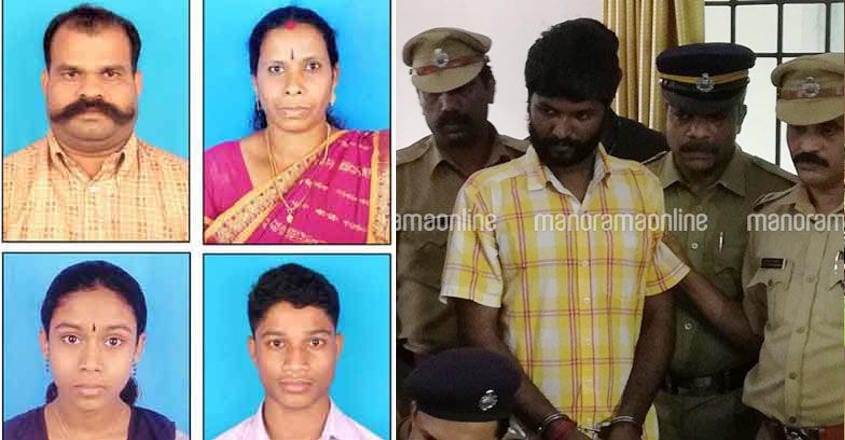 Thodupuzha: The chargesheet filed in the sensational murder of four people of a family at Kambakakanam at Thodupuzha in Kerala's Idukki district states the motive of the ghastly crime was to steal gold ornaments and money. The chargesheet was filed at the first-class magistrate's court at Thodupuzha.
Sorcerer Krishnan, 52; wife Susheela, 50; children Arsha, 21; and Arjun, 17 were hacked and stabbed to death on the midnight of July 29, 2018, but the crime came to light only two days later. After the brutal murder, their bodies were buried in the pit behind the house. The victims were found piled on top of another in a dung pit next to their home.
The accused one to four are main conspirator 30-year-old Aneesh of Adimali, his friend 28-year-old Libeesh Babu of Thodupuzha, 28-year-old Shyamaprasad of Thodupuzha and 30-year-old Saneesh of Muvattupuzha. Aneesh was Krishnan's aide.
Around 30 sovereigns of gold were reported missing from the home soon after the crime. The culprits also planned to make off with Krishnan's manuscripts. The reports during the initial stages of investigation said that the murder was committed to gain his supernatural powers.
The police has filed the charge-sheet in the case almost a year after the incident. All the four accused have been let off on bail.
Thodupuzha DySP K P Jose submitted the charge-sheet in the first-class magistrate court. Earlier, the police had said that the chargesheet has been prepared in such a way that there are no loopholes for the accused to escape, and they have received all the results of the forensic tests carried out.