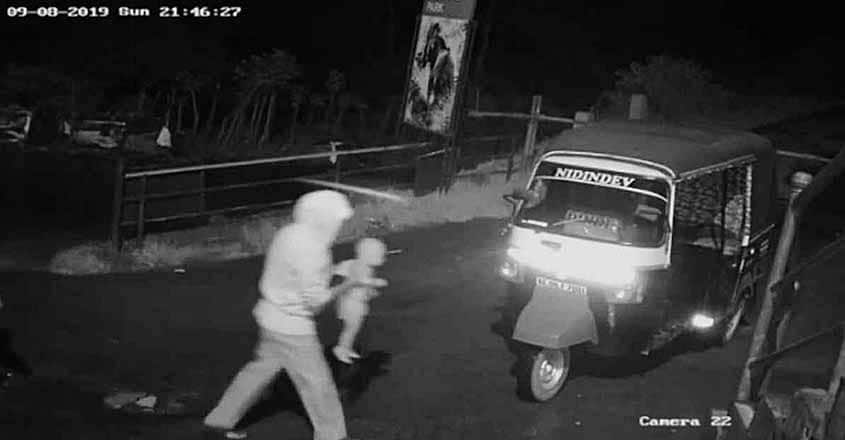 Munnar: The visuals of a baby crawling on a forest road at night had appeared in the public domain a couple of months ago. It was also seen the baby had fallen from a speeding jeep. Though forest department personnel based at the hill station Rajamala, near Munnar, had claimed that they had rescued the baby girl, an autorickshaw driver has now come forward to claim it was he who saved her and the former were really scared to approach as they suspected the crawling one for an apparition as a cemetery is nearby!
The disputed incident had happened in front of the ticket counter at the entrance of Rajamala along the Munnar-Marayoor Road around 10 pm on August 8.
Rohitha, daughter of Sabeesh and Sathyabhama of Adimali, was thrown off from her mother's lap during a jeep ride. However, the parents realised that the child was not with them only after reaching their home, covering a distance of 50 km. Meanwhile, 13--month-old baby, had crawled to reach the aid post of the forest department.
Driver Kanakaraj claims he had picked up the child and took her to the hospital along with the forest personnel.
Soon after the incident came to light the Munnar police had filed a case against the child's parents. As part of the probe, the complete CCTV visuals were examined. These images show the forest personnel looking at the crawling baby, but they don't approach, probably they were spooked by it. The driver is seen rushing to pick up the child. This video has gone viral now.
The probe revealed the video circulated by the forest personnel was edited.
Recounting the incidents of that night, Kanakaraj said, "When I was returning from Rajamala, I saw something moving along the road near the checkpost. As there was a graveyard nearby, the forest personnel were scared to go near it. When I got off from the vehicle, I saw it was a child. I called the personnel and took the child to the hospital. I had explained the situation to the forest department officers, gave my phone number and returned."
However, the forest department officials insist that they had rescued the child and the driver just happened to be at the spot. They also rejected claims that they were scared on sighting something crawling.