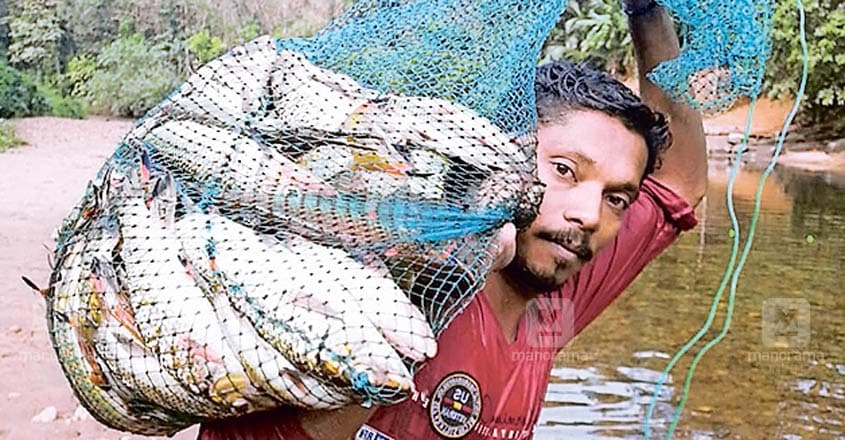 Moolamattom: The stoppage of power generation at the Moolamattom power house in Idukki district till December 19, and the consequent dropping of water levels has turned out to be a blessing in disguise for folks in Arakkulam region.
Arakulam has turned into a hotbed for fishing, with people netting up to 100kg of fish a day. The word has spread and people from near and far are now visiting the area for a handsome catch.
As the power house has been closed for a week, more people are likely to visit in the upcominng days. Though the power generation has been stopped, water is stored in Malankara dam. Therefore, the water levels have dropped only from Moolamattom to 12th Mile area.
Recently, Arakulam native Nishanth alone made a 90kg catch. He added that he was able to catch good number of fish last time round as well.
However, concerns about the freshwater projects are on the rise in Thodupuzha.
The drastic fall in the water levels could affectmajor projects, including the town's urban freshwater project.
With the monsoon waning, the inflow of water into Thodupuzha has reduced. The water from the Moolamattom power house feeds Thodupuzha throughout the year.
The supply for the urban freshwater distribution project and several small-scale schemes in Thodupuzha is likely to be affected.
However, water authorities said that currently there is no crisis situation and none of the water distribution projects would be affected. But they pointed out that the water distribution projects could be affected if the situation continues in the days to come.